Anacamptis papilionacea - The Pink Butterfly Orchid
One of the showiest of the common orchids, although not as frequent in the south-west of the region. It can be found growing either singly or in small clumps. I have seen it in the Sierra de losFilabres in Almeria province in a field where in some years hundreds of plants appear.
A large plant up to around 40cms tall. The main leaves are linear-lance shaped, large,and fleshy with pointed tips and are clustered around the base. Smaller leaves sheath the stem. The flowers form a large roundish head of 4-15 individual pink flowers, which are a much darker pink in bud, then opening to reveal a large paler pink or white lower lip, broadening towards the tip with wavy, upturned margins and covered in pink streaks and dots. The sepals above forms a small pointedhelmet.
Many orchids throughout this region have a preference for limestone soil, but the pink butterfly orchid can also be found in acid soils, mainly grows in grassland and open woodlands from March - June.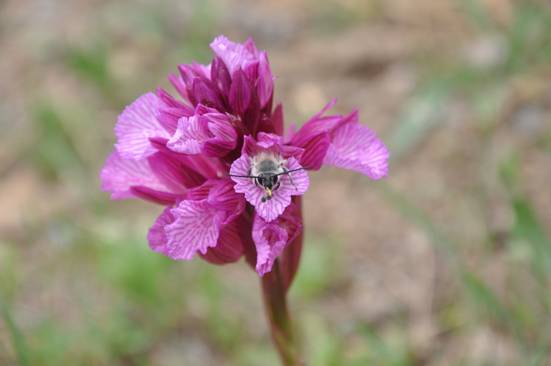 Pollination of orchids is carried out by many insects, here the pink butterfly orchid can be seen being pollinated by a solitary bee with the two pollina attached to its head, these have pollen masses on their ends and are transferred to the next flower the bee visits, completing pollination.
Tony Hall, Manager of the Arboretum and Gardens at the Royal Botanic Gardens, Kew, specialising in the plants of Andalucía.