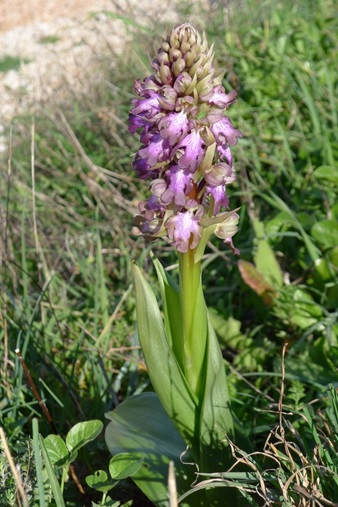 The Giant Orchid - Himantoglossum robertianum

by Tony Hall

As the common name suggests, this is a large orchid growing up to 50cm, occasionally taller. This terrestrial orchid grows from a tuber. The stem is thick, fleshy and sometimes has reddish- brown markings, particularly close to the flower spike. The lower leaves are oblong- ovate, forming a basal rosette, with the upper leaves lanceolate and clasping the stem and like the stem often with reddish-brown markings. The strongly scented flowers form a dense flower spike made up of many large individual flowers, commonly more than 40. Flower colour is very variable, from dark pink-purple to greenish-white. The individual flowers have an upper hood made up of 3 petals. The large lower lip usually with a lighter spotted centre and darker margins, is divided into 3, with the side lobes resembling `arms´ and the central lip divided again, resembling `legs´.

It's an early orchid, flowering from February - April, most often found growing in grassy banks, open woodlands and stony waysides in the mountains. Both Grazalema and the Sierra de la Nieves are particularly rich areas for a great many orchid species.

Andalucia is a great place to see orchids, with around 70 different species to be found in flower from January through to September, with the best months being March - May.




Tony Hall, Manager of the Arboretum and Gardens at the Royal Botanic Gardens, Kew, specialising in the plants of Andalucía.