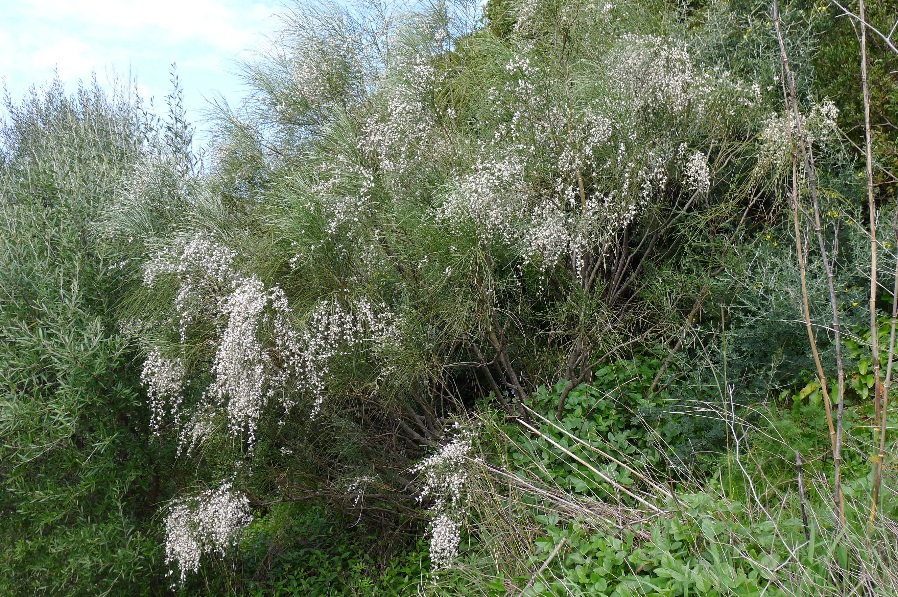 White-Flowered Broom - Retama monosperma
by Tony Hall
A slender, spineless shrub, up to 3m tall, that can be as much as 10m wide. It is much-branched, with graceful arching lateral stems. These have fine, raised, longitudinal ribs, these are silvery when juvienille, becoming hairless (glabrescent) as they mature. The leaves are well adapted to drought and dry growing conditions, being very small, appearing to be almost leafless. They are alternate, lanceolate and hairy on both sides and fall soon after emergence.
The small, white flowers are sweetly scented and borne en-masse in pendulent clusters, turning the whole shrub white, when in full flower. The individual pea-like flowers have a bright crimson caylx and are around 1cm long. The seed pods are wrinkled and usually contain just one seed (rarely two or three), as their specific epithetmonosperma (one-seeded) suggests.
Generally found growing in sandy soils, in coastal scrub and open coastal pine forests, below 300m.
Flowering from  February - April.
Tony Hall, Manager of the Arboretum and Gardens at the Royal Botanic Gardens, Kew, specialising in the plants of Andalucía.