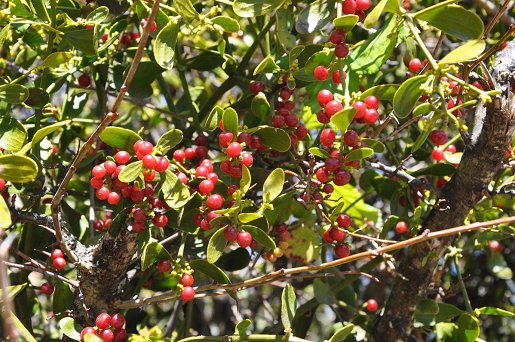 Red-berried Mistletoe - Viscum cruciatum
This is a plant that I always enjoy coming across in the wild, being more used to the white mistletoe that grows in the UK.
Mistletoes are hemiparasitic, meaning they can photosynthesize, but they also rely on taking some nourishment from a host plant.
They are evergreen perennials, with open branches, living on a variety of medium-sized trees and shrubs. They have smooth, pale-green leaves that grow in opposite pairs, with 3-7 parallel veins. The male and female flowers develop on separate plants and are insect pollinated. They are 4-petaled, green and very small and borne in small clusters, with the female flowers developing into the berries. These start out green, becoming translucent red, with a very sticky flesh when fully ripe, containing a single seed. All parts of this plant are poisonous if eaten! But harmless to birds, which is how the seeds are dispersed.
Red-berried mistletoe is fairly widespread and grows a variety of hosts, commonly on olives and Crataegus species in the mountains, particularly around Grazalema and in the Sierra de las Nieves, where it shows up well in the deciduous trees, sometimes completely covering them.
Flowers appear in early summer, with berries produced from December to March.
Tony Hall, Manager of the Arboretum and Gardens at the Royal Botanic Gardens, Kew, specialising in the plants of Andalucía.