Arroyo Nagüales
Golden Mile Mountainside Districts - Arroyo Nagüales
Around the hardly noticable Arroyo Nagüeles is the obviously named district of Arroyo Nagüales.  It lies between the Golden Mile and the A-7 motorway. An  apparent  through road leading down from the Nagüeles turn of the motorway stops abruptly short of the Golden Mile making the short cut up or down to the A-7 motorway slightly more complicated. The unfinished infrastructure in this lower area leaves the visitor wondering how a part of Marbella so close to the centre can be in such an unkempt state.
NH Alanda Hotel Marbella is on the mountain side of the Golden Mile opposite Puente Romano resort.  El Rocio de Nagüeles has an access road before and after the NH Alanda hotel.   

NH Alanda Elysium Spa
Between Marbella and Puerto Banús, set in a stunning 2,000 m2 of lush subtropical gardens on the famous Golden Mile, is the five-star NH Alanda Hotel, where you will find the Elysium Spa.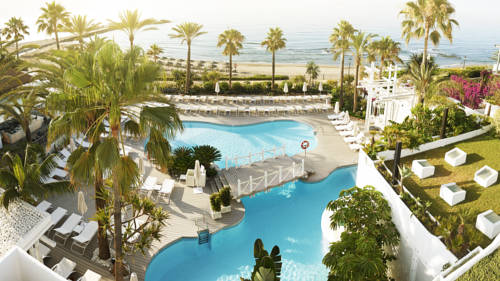 Puente Romano
This hotel is named after a Roman bridge, which is at the centre of its lush grounds. On Marbella's Golden Mile, the Puente Romano boasts nine bars and restaurants, including Japanese and Italian.
Turn off the Golden Mile at the Marbella Mosque for access into  Arroyo Nagüeles or Las Lomas de Marbella Club. Prince Salman built the King Abdul Aziz Mosque, in honour of his late father, on his land in the late 1970s, designed by Marbella architect Juan Mora Urbano.