La Carolina
Golden Mile Mountainside Districts - La Carolina
The La Carolina development dates back to the 1960s, and is familiar to most as the shopping rows that sit on the northern side of the Golden Mile. The residential block with pools sits behind these rows.
Higher up in La Carolina is one of the oldest urbanisations in the area. It consists of 65 plots for villas, almost all completed units. La Carolina is almost within convenient walking access to Marbella centre.
La Carolina includes two rows of commercial development of street-level shops and first-floor offices called Marbella Real Commercial and Carolina Commercial. The road that leads from the small roundabout outside La Carolina is a short cut up to the A-7 motorway.  
La Coneja a quiet small well established community with delightful rustic properties slightly west of LA Carolina.

Nearby the distinctive pavilion of the Dani Garcia restaurant El Lobito del Mar (2016) and before that El Portalon restaurant refurbished and green pavilion added in the late 1990s. Venta Los Pacos whilst its frontage was also renovated, the style remains unchanged from its beginnings as a family-run roadside venta (inn) which opened on 9 September 1982. Surprisingly large inside, its "menu del día" (daily menu) is popular and good value. 
Across the Arroyo de Las Piedras, opposite the Marbella Club, Edificio Centro Expo features decoration shops, an organic restaurant and the headquarters of Panorama, the longest established real estate agency in Marbella. 
El Rocío, Señorio de Marbella and Arroyo Nagüeles areas are further west.   Urb. El Vicario, Urb. Altos de Puente Romano, Monte Marbella Club, Altos de Puente Romano, Urb. Arco Iris and Sanyres Puente Romano developments. Here the unfinished infrastructure makes for another shortcut up to the AP-7 tollway heading west, but it  leaves you wondering how a part of Marbella so close to the centre can be in such an unkempt state.
NH Alanda Hotel Marbella is on the mountain side of the Golden Mile opposite Puente Romano Resort on the sea side. Turn off eithr befor or after the NH Alanda to enter El Rocio de Nagüeles. 

NH Alanda Elysium Spa
Between Marbella and Puerto Banús, set in a stunning 2,000 m2 of lush subtropical gardens on the famous Golden Mile, is the five-star NH Alanda Hotel, where you will find the Elysium Spa.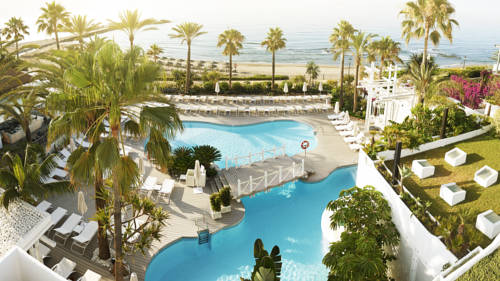 Puente Romano
This hotel is named after a Roman bridge, which is at the centre of its lush grounds. On Marbella's Golden Mile, the Puente Romano boasts nine bars and restaurants, including Japanese and Italian.
Turn off between here and the Marbella mosque for Las Lomas de Marbella Club. Prince Salman built the King Abdul Aziz Mosque, in honour of his late father, on his land in the late 1970s, designed by Marbella architect Juan Mora Urbano.