Bonares
by Saskia Mier
Bonares is situated east of the city of Huelva covering a surface area of 66km². It is a village rich in history and is home to 6244 inhabitants.
HISTORY
Among the many civilizations that have passed through the area are the Tartessos, with the mythical dynasties Gerión and Gárgoris or the long reign of Argantonio (650-550 B.C.). The Roman colonization left clear traces on the farm "Los Bojeos", which were possibly remains of a Roman villa belonging to the Christian era of the first century.
The Visigoths also passed by Bonares during the fifth century, building military settlements. The village was under Muslimreign dependent on the Condado de Niebla until the Christian conquest by Alfonso X "El Sabio" in the thirteenth century. The Condado de Niebla had many villages, whose volume and number increased in fifteenth century. The purchase of Almonte, in the mid-fifteenth century, by the Condes de Niebla joined the Condado with Sánlucar de Barrameda through a route that later gave rise to El Rocio. The result of deep religion of the Spanish Old Regime led to the construction of numerous churches, chapels and shrines.
In 1813, Cortes de Cádiz, abolished the feudal courts and other political and legal aspects of the Old Regime, leaving municipalities with full autonomy. The return of Fernando VII re-established court privileges and Bonares was not granted autonomy until the Constitution of 1836.
Bonares was self-sufficient in grains, fruits and vegetables. However, from the sixteenth to eighteenth centuries, wine production resembled that of Bollullos par del Condado, Rociana del Condado, San Juan del Puerto and Trigueros. There was also a goof production of limestone and coal, highly valued for construction, household kitchens and ovens. It was exported throughout the provinces of Huelva, Cadiz and Seville.
The infestation of the insect phylloxera in France created an opening in the global wine market. Bonares was affected by intense transformation to produce wine on a large scale, creating work for locals and economically grew. However, this growth plummeted as the area was unable to compete with the recovered French and Jerez vineyards. Only recently, a strong social economy based on initiatives and commitment to cutting-edge agriculture has opened doors and wine production is on the up-rise.
THINGS TO SEE
Iglesia Nuestra Señora de la Asunción
The church has a mixture of Barroque and Classical deisgn. Inside, there are images of considerable importance, such as a "Inmaculada", "San Francisco de Borja", "Virgen del Carmen", "Virgen Niña" and "Asunción" carried out in the mid-eighteenth century. Located in Plaza Nuestra Señora de la Asunción.
Ermita de Santa María Salomé
The chapel has been designed combining Sevillian, Gothic and Barroque styles and although the chapel is a lot older, it was in the early eighteenth century when it was given its exterior that is seen today. Located on Calle Santa María Salomé.
Ermita de San Sebastián
It is estimated that the Ermita de San Sebastián dates to the late seventeenth century, specifically built around 1695 in a clear neoclassical style .Located on Calle San Sebastián.
Capillas de las Cruces de Mayo
There are twelve crosses in Bonares: El Rincón, El Pozo, Larga, Cuatro Esquinas, La Fuente, Misericordia, Nueva, Arenal, El Pilar, San Sebastián and Triana. In honour of the Crosses, a unique and traditional festival is celebrated in the month of May.There are 11 contemporary Capillas de las Cruces de Mayo (chapels).During the festival in May, the chapels and crosses are dressed inextravagent materials, flowers, lace, embroidery and luxurious objects.
Ayuntamiento
The town hall has undergone several transformations up to today. In 1928, the architect Manuel Serrano, devised a project for the reformation of the building and in 1979, the architects, Juan Camacho and Serafin Garcia Ortega, presented the project and was built. In 1990, after fire damage, Emilio Albarracín Rapallo and Captain Ignacio Carmona drafted a project, which concluded in May 1993. Located in Plaza de la Constitución.
Teatro Cine Colón
The Teatro Cine Colón is the theatre/cinema of Bonares where main cultural events take place.The building consists of three floors: a ground floor with an entrance hall and a large hall for exhibitions and briefings as well as dressing rooms. The first floor is composed of 240 seats and a large stage where films, theatre plays and performances are shown.The top floor holds all machinery for films and sound. Located on Calle de Cervantes.
Plaza de España
The Plaza de Españais the main square of Bonares surrounded by orange trees, palm trees and bougainvillea. In the centre stands a pavilion which is used for different events, such as concerts performed by the municipal band.The square also holds the main entrance to the Plaza de Abastos. Located in Plaza de España.
Arboreto del Villar
El Arboreto del Villar has the most diverse varieties of eucalyptus, a memory of the agroforestry investigations initiated in the fifties in the province of Huelva. Visitors are captivated by the scent of lemon, the purple flowers of the red ironbark and the trunk of Argyle apple. The natural area covers an area of ​​70 hectares, and has recently been refurbished by the Ministry of Environment for visits. Located 10km from Bonares.
El Corchito
This natural area has an estimated area of 5 hectares of pine trees. It is where the popular pilgrimage "El Romerito" takes place. Many Brotherhoods travelling to El Rociouse this area to spend nights during their largest pilgrimage of the year. Located 1km from Bonares.
COUNTRYSIDE WALKS
El Corchito - Alboreto del Villar
The route is 10km in length taking approx. 2 hour walking and 1 hour by bicycle. It begins at El Corchito, taking the path called Camino del Madroño, which in a few meters will join the Camino de Moguer. The route starts off with large forests of pine trees and later onto eucalyptus plantations once approaching Alboreto del Villar. Crops of strawberries and raspberries can also been seen in the area, as well as several streams, Gragera, Cañada de Agua and Arroyo del Avispero, all flowing into Arroyo de la Rocina.
GASTRONOMY
Bonares offers a rich gastronomy including Iberican pork, asado en "colorao" (roast pork in a spicy broth), caldereta (pork stew) and estofado de carne especiada acompañada de patatas guisadas y verduras (spiced pork stew with potatoes and vegetables). Also delicious are the vinagreras (wild spinach) and the local "tostá" (toasted bread with garlic and oil, accompanied by fish such as cod). Like in the rest of El Condado, snails are very populated and each village have their own way of serving them. All the dishes can be accompanied by a local white wine made in the area. As for sweets, hornazos (almond pastries) are very traditional and popular.
HANDICRAFTS
Local handicrafts combine the taste for tradition with the innovation of new technologies, such as embroidery, in which sewing with thread of various colours that shape differently, towels, tablecloths and bedspreads can all be made. Saddlery is also popular and there are several workshops dedicated to leather work, making riding boots, saddles, harnesses and accessories for riding. Increasingly forgotten but no less valuable is weaving to produce panniers, mats and baskets.
FESTIVALS
Semana Santa
Easter is very popular in Bonares and is celebrated with many processions and mass.
Corpus Christi
The most charismatic festival in Bonares, celebrated 60 days after Easter Sunday.
Cruces de Mayo
The decoration of the 12 crosses in Bonares is celebrated in May.
El Rocio
The Bortherhood of Nuestra Señora del Rocío de Bonares was founded in 1935 and every year join the Brotherhood of Huelva on the pilgrimage celebrated in May to El Rocio.
Santa María Salomé
Celebrated at the end of October, usually around the 21-25 in honour of the patroness of Bonares. Many cultural, music and dance events are organised.
LOCATION
Bonares is located 29km from Huelva. To get there, take the H-31 leaving Huelva towards Seville. Take Exit 60, onto the A-484, diverting right onto the A-5001 to Bonares.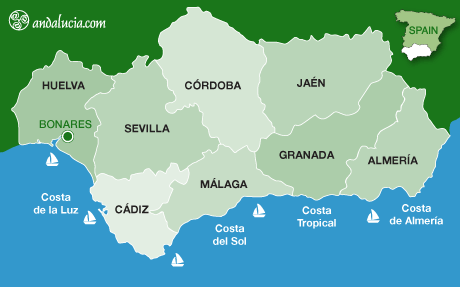 Destination tags