Paterna del Campo
by Saskia Mier
Paterna del Campo is situated east of the Comarca El Condado. An agricultural village surrounded by worked land and neighbouring Escacena del Campo. It has about 3500 inhabitants.
HISTORY
The most important remains are those of Tejada la Vieja, which today is Escacena del Campo from the tenth to seventeenth centuries BC.As from the sixth century BC, Paterna del Campo became less of a mining community and dedicated itself to agriculture.
There is not much evidence from the Moorish period, but it is known that even after the conquest of Seville in 1253, the"Rey Moro de Tejada" (Morrish King of Tejada) existed. The Castillo del Alpízar is testimony to the presence of the Moors and presumably was built on a Roman villa. The Wise King took over the Castillo del Alpízar, which served as a boundary between the Iliplense Kingdom and the Taifa de Tejada. In 1291, Paterna del Campo became independent thanks to King Sancho IV.
The nineteenth century caused stagnation in Paterna del Campo, with the heavy burden of agricultural production for a rising demand for food, as well as the mining of iron pyrites.
THINGS TO SEE
Iglesia de San Bartolomé
Built on the ancient mosque, the church holds a specific feature called "Puerta del Perdón"(Door of Forgiveness) of Mudejar style. The 1755 earthquake partially destroyed the church but was reconstructed a year later. In 1934 it was destroyed by fire and rebuilt again. Located in Plaza de España.
Capilla de Gran Poder
The chapel dates to 1955 and is a clear example of the popular religious architecture of the area. It is the meeting point of the pilgrimage during May. Located on Calle Virgen del Carmen.
Capilla Cruz de Abajo
The chapel has an entrance which stands out for having an access door at half point framed by ceramic pillars. Located on Calle Francisco Mendoza.
Capilla Cruz de la Victoria
The chapel was built in the last third of the twentieth century with murals painted in 1987. It houses a beautiful silver cross made in Seville.Located on Calle Andalucía.
Ayuntamiento
The town hall is a contemporary building built during the twentieth century. It occupies a strategic and very central place in Paterna del Campo, next to the Iglesia de San Bartolomé.
Located in Plaza de España.
Casa de la Cilla
Casa de la Cilla was designed to collect the tithe that residents gave to the Church. It is of Baroque style, dating from the eighteenth century and was bought by the Cathedral of Seville, hence, the presence of its cress on the door. It is currently used as a rectory. Located on Calle Virgen del Carmen.
Acueducto Romano
In a new part of Paterna del Campo, there is a stretch of what was the conduction of water from the aqueduct, taking water from Alpízar to the city of Italica in the first century BC. Located in Barriada Colina Verde.
THINGS TO SEE OUTSIDE THE VILLAGE
Ermita de San Isidro
The chapel dates to 1955 and is a clear example of popular religious architecture of the area. It is where the pilgrimage in May meets every year. Located on Carretera de El Berrocal.
La Fontanilla
La Fontanilla is an artificial water source from the eleventh century.Built of brick and has an irrigation system of Persian origin, called 'qanát' that channels water from an underground well. Located on Carretera Paterna del Campo-Manzanilla.
Castillo del Alpízar
The Castillo del Alpízar corresponds to an old fortress from the eleventh century of Almohad style. It is located near to the village of Tujena, next to Acebuchal del Alpízar surrounded by fields of corn, sunflowers and olive trees. Located on Carretera Berrocal.
El Chorrito
A resting point with freshwater springs and dense vegetation. The road that leads to the spring becomes a closed gallery of wild roses and other plants. Many locals come here to collect water. Located north of Paterna del Campo.
GASTRONOMY
Typical dishes of Paterna del Campo include migas (seasoned breadcrumbs with meat), gazpacho, tostones (toasted bread with oil with grilled sardines or mackerel), caldereta (pork/beef/lamb stew) and potaje de garbanzos (chickpea stew).Sweet treats worth trying are roscos "tontos" (biscuits made with wine), torrijas de vino y miel (eggy bread with honey), pestiños, rosquillos de aguardiente, piñonates and empanadillas rellenas de cabello de ángel y chocolate (pastries filled with spaghetti squash conserve and chocolate).
HANDICRAFTS
Local crafts include metalwork, woodcarving, weaving, and especially embroidery.The art of sculpting is also very popular and examples can be seen in the Iglesia de San Bartolomé.
FESTIVALS
Romeria de San Isidro Labrador
Celebrated in Tujena with a pilgrimage on the closet Sunday to the 15 May.
Romeria del Rocio
The largest pilgrimage in Andalusia, celebrated in the month of May, in Aldea El Rocio.
Festividad del Carmen
Has been celebrated on the 16 July since the eighteenth century with a procession.
Fiestas Virgen de las Virtudes
Celebrated on the 15 August with a procession.
Fiestas Patronales de San Bartolomé
Celebrated the 24 August with a procession.
Festividad de las Cruces
Two different celebrations. Santa Cruz de la Victoria de Cristo is celebrated the first weekend of September and Santisima Cruz de Abajo is celebrated the second weekend of September. The Cruces (crosses) are decorated throughout the village.
LOCATION
Paterna del Campo is located 59kms from Huelva. To get there, take the H-31 leaving Huelva and onto the A-49 towards Seville. Take Exit 53 and take 3rd exit at the roundabout. Continue on the HU-4102 until the crossroad at Villarrasa. Turn right onto A-472 and continue passing La Palma del Condado, Villalba del Alcor and Manzanilla. Take left turn onto HU-6109 until you reach Paterna del Campo.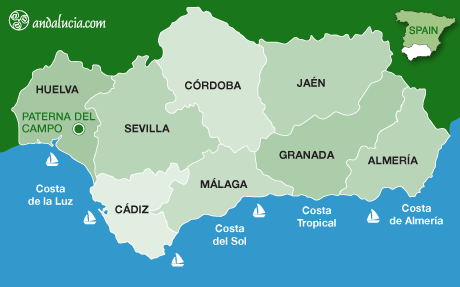 Destination tags