San Juan del Puerto
by Saskia Mier
San Juan del Puerto is situated far south west of Comarca El Condado, bordering the capital of Huelva. Although considered an agricultural village, it is also an industrial location, due to its proximity to the capital. It sits on the north bank of the Rio Tinto. Through traffic from Seville to Huelva now by-passes the village on the A-49 Motorway. It has about 8700 inhabitants.
HISTORY
Roman existence can be placed by the Rio Candón and by the A-49 towards Seville, with a fortified tower to defend surrounding territory.
However, before the existence of San Juan del Puerto as a village, a small port existed for fishermen and for shipping fruit and wines. During the seventeenth century, trade was conducted only on the south bank of the Rio Tinto at Moguer and Palos de la Frontera, however the north bank of the river Tinto proved to be strategically significant and the Count of Niebla and Duke of Medina-Sidonia finally issued a Carta de Privilegios (charter) for San Juan del Puerto.
In 1551, San Juan del Puerto gained village title and during the seventeenth century became a point for distribution of foreign imports along Huelva's coast. During the eighteenth century, it began shipping wheat, grapes, firewood and cork.
During the nineteenth century, port activity declined, but improved during the English colonial exploitation of the Andévalo mines. In 1867, the Buitrón railway was constructed and the port began to receive copper pyrite ores, livestock, forestry products and agricultural products from the towns with railway connection (Valverde del Camino, Beas and Trigueros). The activity was paralyzed in 1969 due to lack of profitability.   Today the old railway line has been converted into a public foot path called the  Via Verde de Molino.  
THINGS TO SEE
Convento del Carmen
The convent was founded in 1529 by Juana Lucero. Initially, its location was in a field and later was in Plaza del Carmen (today Plaza de España). This was one of the first convents reformed in Andalusia and was active from 1572-1835, when it was demolished. Today, there are few visible remains of the convent. Located in Plaza de España.
Iglesia Parroquila San Juan Bautista
The Mudejar-Baroque church was built around 1500. The original construction was smaller but has expanded over the years. In 2009 the altarpiece and paintings belonging to José Corbalán dating from the eighteenth century, were restored by Jesus Mendoza. Located in Plaza Iglesia.
Puente Romano del Arroyo Candón
Trace of the first settlements in the area can be seen at Arroyo Candón with a Roman bridge crossing over the stream which stands out for its simplicity. Located on the A-472, at Arroyo Candón.
Restos de la Torre Fortaleza Árabe
The Arab-Moorish presence in the area before the thirteenth century is evident from these remains of a defence tower. Surrounded by oaks, it also offers the opportunity to admire bulls owned by Don Guillermo Acosta. Located at Finca La Torre (5km from San Juan del Puerto).
Ermita Nuestra Señora de Los Remedios
A simple chapel dating to the sixteenth century. Located on Calle Toledo.
Estación de Ferrocarril de San Juan del Puerto
The railway station date to the nineteenth century with Neo-Mudejar style. Located at the end of Calle Puerto Rico. It is 500m to the west of the modern railway station. 
Ayuntamiento
The town hall was built in 1902 by architect, Manuel Pérez González, and contractor, José del Valle Pérez. Located in Plaza de España.
THINGS TO SEE OUTSIDE THE VILLAGE
Salinas del Tinto
Salinas del Tinto is a natural area, of salt marsh. Sea salt was produced by containing sea water from the estuary and allowing the water to evaporate. which originally produced sea salt. Today it is a recreational area for cycling, hiking and riding.

Puerto Escondido de San Juan del Puerto
One can stroll down the path called 'Camino de los Palitos' located on the river side of the railway line and it leads down to the old dock at a bend in the river. Originally known as Muelle del Tinto, and more recently known as Puerto Escondido de San Juan del Puerto (hidden port of San Juan del Puerto) traces of the old river dock can still be seen. Located 1km from San Juan del Puerto. In October 2016 it was declared 'Lugar Historico' (historic place) as part of the 'Lugares Colombinos' (Columbuses places) in the 'Catalogo General del Patrimonio Historico Andaluz' (General Catalogue of Andalucian Historical Patromony).  
Arroyo Candón
Arroyo Candón is a stream which has a beautiful green area, home to a large number of animal and plant species, with crystal clean water and a Roman bridge. Located 5kms east of San Juan del Puerto.
GASTRONOMY
San Juan del Puerto has a typical gastronomy found in the area of El Condado. Popular dishes include cabeza de cordero al horno (oven roast lamb), caldereta de cordero(lamb stew) and revoltillo con tomate (eggs with tomato). Sweet treats include chupepillas, pestiños, hornazos, roscos, tarta de galletas (biscuit cake) and lechefrita (fried custard).
HANDICRAFTS
San Juan del Puerto is well known for its saddlery and the making of certain horse-riding accessories, as well as other leather goods.Crochet is also popular.
FESTIVALS
Certamen de Carts de Amor
Celebrated on 14 Febuary with exhibition of love letters for Valentine's Day.
 
Carnaval
Celebrated at the end of Febuary or beginning of March with cultural events.
 
Fiesta de San José
Celebrated the 19 March.
 
Día de La Bicicleta
The "day of the bicycle" is celebrated in the month of March.
 
Fiesta de la Cruz
Celebrated in May, the Cruces are decorated and processions take place through the streets.
 
Romeria del Rocio
Celebrated in May, the Brotherhood of San Juan del Puerto set off on the pilgrimage to reach the Aldeal El Rocio.
 
Fiesta de San Juan Bautista
Celebrated 18-24 June with a procession.
 
Fiesta de Virgen del Carmen
Celebrated the 16 July with a procession.
 
Cine de Verano
During July and August, an outdoor cinema is set up for everyone to enjoy.
 
Semana Cultural
A cultural week celebrated in August.
 
Romeria San Isidro Labrador
The pilgrimage of the Saint is celebrated the 1 September in Finca "La Torre".
 
Fiesta de Halloween
A celebration is organised in the village for all children on the 1 November.
LOCATION
San Juan del Puerto is located 13kms from Huelva. To get there, take the H-31 leaving Huelva and onto the A-49 towards Seville.Take Exit 75 and 1st exit at the roundabout onto the A-494. Take first right turn to San Juan del Puerto.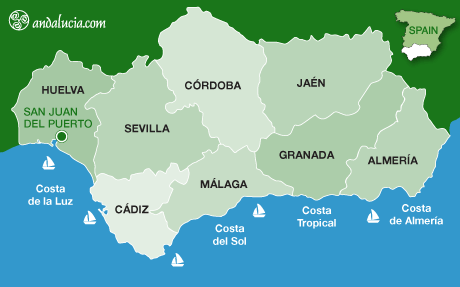 Destination tags