La Palma del Condado
by Saskia Mier
La Palma del Condado provides a traveller with many attractions both cultural and gastronomic during any season. The old part of town has been declared of cultural interest and the surrounding countryside is becoming ever more famous for their production of wine.
HISTORY
The first settlements of La Palma del Condado have been found in the fossil dune formations in the southernmost part of the village. At 1km southwest is Cabezo de la Molina, a possible centre placed during the Chalcolithic and early Bronze Age.
Several farms are present from the Roman era, including El Chabuco o El Garabato, where there are abundant remains of ceramics, bricks and stones, and a necropolis with tombs.
Into the sixteenth century, for a short period, the estate belonged to Casa Ducal de Medina Sidonia, specifically to Doña Leonor de Guzmán, but was sold to Don Diego Colón, son of the discoverer of the Indies.
With the Alcázar family as lords, economic and social foundations are recovered. The urban planning and building of its historical and artistic heritage begin. The descendants owned the estate until it was abolished by the Cortes of Cádiz in 1811.
In the twentieth century, the economic crisis during the thirties caused a decline in the wine industry; however they are still producing excellent and unbeatable wines and brandies.
THINGS TO SEE
Iglesia del Valle
The church is the oldest building in La Palma del Condado, of Mudejar style and was built in the second half of the fifteenth century. It was saved from the burning of temples during the Civil War, but not the works of art which were inside it. Located in Plaza de Nuestro Padre Jesús.
Ermita de San Sebastián
Built in the sixteenth century in order to shelter the population of epidemic waves that severely flogged this area. The Mudejar style has some remarkable features and has been used as a hospital, soup kitchen and even a garage before it was abandoned. It has now been restored back to a place of worship. Located in Plaza del Cristo del Perdón.
Iglesia El Salvador
This church was built in 1973 by Alfonso Aramburu. Located on Calle Almonte.
Convento de la Hermanas de la Cruz
This convent built in the mid-twentieth century was designed by architect, Carlos Martínez Caro. Today the building is used as a nursing home. Located on Calle Carlos Mauricio Morales.
Convento Nuestra Señora del Carmen
The convent was built in the late nineteenth century and was not used for religious use until 1942. Located in Plaza Altozano.
Capilla de la Santa Cruz de la Calle Sevilla
The chapel was built between 1969 and 1970 under the artistic direction of, Pédro Perez Flores. Located on Calle Manuel Siurot.
Iglesia Parroquial de San Juan Bautista
Built in 1768, the Mudejar style church was destroyed in 1755 by the Lisbon earthquake, but is one of the most representative exponents of the late Baroque Sevillian eighteenth century. The architect was Pedro de Silva and master builder, Francisco Díaz Pinto. Located in Plaza de España.
Estación de Ferrocarril
Built in 1880 from a design by Jaime Font, this train station has a neo-Mudejar style. Located on Avenida de la Constitución.   Currently the main intermediate station on the Sevilla to Huelva route.
Antigua Casa Consistorial
The previous town hall is built on the ruins of the sixteenth century Hospital de San Blas. The regionalist style was heavily influenced by the Latin American Exhibition of 1929, with its exterior emphasizing monumental neo-renaissance elements mixed with neo-Baroque and neo-Gothic elements. Located in Plaza Corazón de Jesús.
Edificio Antiguos Juzgados
This was previously the courthouse, its interior was completely renovated but its exterior has been preserved intact. Located on Calle Rey Juan Carlos I.
Teatro de España
The theatre is located where the former Cine España was, with a capacity of 400 seats, stalls, amphitheatre and boxes to ensure the best visual and acoustic conditions in every seat in the room. Located in Plaza de España.
Casa de los Arcos
The Moorish style house of the sixteenth century is the oldest house in La Palma del Condado, and was possibly used as a granary. It is currently a coffee shop. Located in Plaza de España.
Antigua Casa de los Tirados
The house-palace was built in 1842, commissioned by Manuel Tirado. It has a neo-Classical and Baroque style; later restored in 2003 once it became the location of the town hall. Located in Plaza de España.
El Casino
The casino was built in the second half of the nineteenth century, during agricultural and industrial prosperity. A Casino in this context has nothing to do with gambling; instead, it is a social club. Located in Plaza de España.
Casa del Diezmo
A house built during the fifteenth and sixteenth centuries. It was part of a network of stores owned by the Church throughout the country that served to collect the tax on agro-livestock, payable in cash or in kind. The building was restored in the eighteenth century and in the second third of the nineteenth century this tax was abolished by the Government of Mendizabal. Located on Calle Sta. Joaquina de Vedruna.
Brandy Luis Felipe
Bodegas Rubio is a company specializing in the production of brandy and vinegars since it was founded back in 1946 in La Palma del Condado. One of its most recognizable brands is, Brandy Luis Felipe, distinguished by age into three types; Luis Felipe Brandy Gran Reserva, Rey Luis Felipe Brandy Gran Reserva and Luis Felipe One Hundred Years Brandy Gran Reserva. It is currently one of the most appreciated spirits by the select worldwide critics and received prestigious awards. Located on Calle Palos.
Opening Times:
Monday-Friday, 09.00-13.00hrs and 16.00-18.00hrs
Saturday, 09.00-13.00hrs
Tel: 959 40 07 43
PLAZAS
Plaza de España
It is the main square of the town, located at the foot of the Iglesia Parroquial de San Juan Bautista. In 1901 the architect, Trinidad Gallego, made the largest reformation, providing it with open spaces, floral ornamentation and ceramic decoration representing places and most important symbols of the town, made by Agustin Echevarria.
Plaza del Rocío
The square was built in 1927 under the order of Viscount Don Ignacio de Cepeda, and in its centre a neo-Mudejar temple with the image of Divina Pastora del Rocío reflecting the growing devotion of the town to the Virgin.
Plaza del Corazón de Jesús
The square is named after the dominating marble image created in Rome by sculptor, Antonio Pinto Soldán, and restored in 1978 by Joaquín Moreno Daza.
Plaza de la Magdalena
The Plaza de la Magdalena is reached via a small side street from the Teatro de España.
THINGS TO SEE OUTSIDE THE VILLAGE
Antigua Bodega Morales
Remains of the first winery in La Palma del Condado that today is abandoned. Located on Carretera Palma-Berrocal.
Dehesa La Zorrera
The bull farm dates back to 1990 and is dedicated to breeding and marketing Toros de Lidia. They are also equipped with facilities to hold social and business events, as well as equestrian and flamenco events. Located on Carretera Palma-Berrocal, km2.
Tel: 686 98 42 72 or 955 67 41 64
Email: [email protected]
Antiguos Molinos del Río Tinto
Originating from the Romans, the activity of these water mills went on until the seventeenth and eighteenth centuries. To take advantage of the water from the Río Tinto, small stone and brick dams were built which over the centuries have been
integrated into the landscape of the river. Located on the right hand track before the bridge over the Río Tinto on the A-493.
RACING CIRCUITS
Formula GT
Formula GT offers that unique experience of driving top of the range sports cars, with fully equipped facilities and all necessary amenities to welcome visitors. While waiting your turn to drive, you can enjoy a fun segway circuit as well as be a passenger in a Hummer H2 or Mistsubishi Lancer and practicing with a F1 simulator.
Circuito Monteblanco, A-49, Exit 48 (La Palma del Condado)
Tel: 959 02 64 80
NATURAL AREAS
Via Verde
This unique footpath is located between La Palma del Condado and Berrocal, notable for being perfectly integrated into one of the most breathtaking and stunning natural landscapes that can be seen. The path gives the impression of being on planet Mars, due to intense red and brown colours that Río Tinto has a result of weathering minerals along its banks. The route runs along the now abandoned railway line between Huelva and Río Tinto mines. It is advised to take correct equipment, flashlights and to exercise extreme caution when crossing bridges. Located northwest of La Palma del Condado, off the A-493, parallel to the right bank of the Río Tinto.  More about Via Verdes
Pantano del Corumbel
This reservoir was built in 1986 to supply water to the surrounding area. Recreational areas have been built around the reservoir with playgrounds and barbecues. Located on the HU-4103.
GASTRONOMY
Visitors to La Palma del Condado must try the popular caldereta de cordero (lamb stew), habas con poleo (marinated broad beans) and specifically the homemade sweet treats in Plaza del Rocío. All can be accompanied by local wines Origen El Condado de Huelva.
HANDICRAFTS
Handicrafts specific to La Palma del Condado are tambourines and drums, specifically those traditionally herd at El Rocío.
FESTIVALS
Muestra de Habas con Poleo
Festival in March dedicated to the typical dish of broad beans in the area.
La Ruta de la Tapa
Gastronomy festival held celebrated during April and May.
Festividad de la Cruz de la Calle Cabo
Celebrated in May.
Festividad de la Cruz de la Calle Sevilla
Celebrated in May.
Fiestas en Honor a la Virgen del Valle
Celebrated in August.
Noche Blanca de la Cultura y el Vino
A cultural festival held in September which includes guided tours of wineries, historical places in the village and an evening of music, poetry and dance.
Fiesta de Vendimia
A large festival in September to celebrate the grape harvest.
LOCATION
La Palma del Condado is located 43km from Huelva. To get there, take the H-31 leaving Huelva and onto the A-49 direction Seville. Take Exit 48 and 1st exit at the roundabout onto the A-493. Continue on until you reach La Palma del Condado.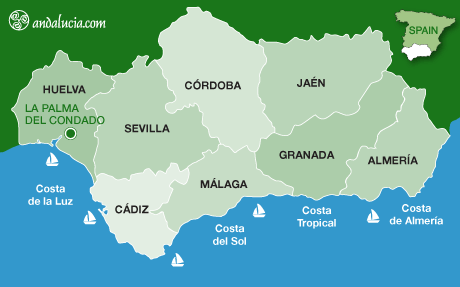 Destination tags