Gibraleon
by Fiona Flores-Watson
Gibraleon is one of the largest municipalities in the province located 15km north of Huelva city and is famous for its excellent olive oil.
HISTORY
Dating back to prehistoric times, with archaeological remains dating from the late Bronze Age found in the old Caserio de la Mata. Other Paleolothic pieces, found in the Sierra de la Calvilla, are now housed in the Archeological Museum in Huelva.
Gibraleon was an important town during the Moorish era, from which period you can still see a fortress in the old town. Later, Alfonso X, the Wise, built a castle here for his war with the Portuguese.
Churches
The town has important religious architecture: El Carmen church, in mudejar style, and the chapel of the Barefoot Carmelites convent, both dating from the 14th century; San Juan church, El Vado convent and Santiago church, all 16th century renaissance.
You can also see beautiful baroque houses, and an important art collection in the town hall.
In October they hold an artisan fair, with handmade earthenware and wicker products.
In spring, look out for magnificent fields of wildflowers.
Gastronomy and fiestas
Local gastronomy includes rabbit salmorejo and marzipan, while the town also has a thriving wine industry.
FESTIVALS 
The town's fiestas start on 15 May with San Isidro, while San Roque is in August and features various competitions, sporting as well as photography, painting and artisan, and the feria of San Lucas is in October.
Location
 Gibraleon is located 15km from Huelva city – take the N441, then the N431, arriving on Avenida Cristo de la Sangre.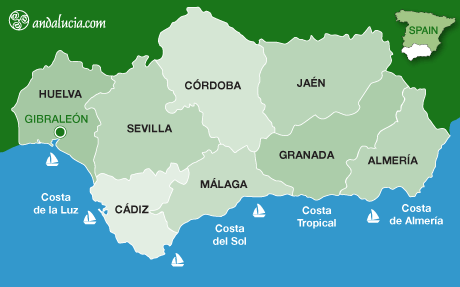 Destinations