Backpacking in Cordoba
by Lee Gutcher
Cordoba is the most historic of the Andalucian cities being previously both the Roman and Moorish capital of Spain. This sense of historic and former prestige is readily recognisable whilst strolling around the city. It is for the fabulous Mezquita which Cordoba is now famous, a building of world renown. But Cordoba does have a charm itself warranting a longer stay, with colourful patios
See Cordoba home page.
Arriving and Accommodation
Both the
train and bus stations
are located some distance to the North of the city centre. Bus No. 3 will runs from the bus station to the central Plaza Tendillas. Most of the accommodation is around the Mezquita. Those closest to the Mezquita tend to be more expensive with cheaper options a larger distance away. See
Cordoba hostals
page.
Things To SEE
Mezquita - this 8th century building encompasses many architectural styles includes a breathtaking Mihrab and is under no circumstances to be missed.
The River Area - walking along the southern bank of the river Guadalquivir offers a fantastic view of the city.
Archaeological Museum - (free with EU passport) In a beautiful location this museum is one of the best in Andalucia. Roman mosaics and statues are highlights of a thoroughly enjoyable collection.
Alcazar - The Alcazar is unspectacular but offers good views of the city and has impressive mosaics in it's interior.
The Juderia - The Juderia as with all Andalucian cities this old quarter is a delight to stroll around.
Free walking Tours of Cordoba
There is a good value walking tour of Cordoba which is available free (with a discretionary tip) - you can visit the emblematic sites of the historic city centre with a local guide. Read More clicking on "Guided Tours Cordoba" on our Cordoba tours page>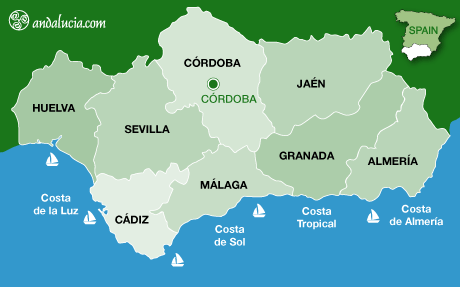 Hover the cursor over Cordoba to see bigger map and click to go to the maps page.