The curative powers of the Roman sulphur baths of Manilva are world renowned.
Casares to Manilva itinerary
50km - 1 hour
Continue down the hill. Try to ignore the stone Quarry and concrete batching plant and all the dust and the pay motorway.
It does serve as a marker where you can turn left to drop down to the little River Manilva, then follow the road Turn left towards Manilva and, just before hitting the coast, turn left beside the Manila River. In less than a mile you will come to Roman Baths dating back some 2,000 years. The baths are genuine sulphur water and you can smell them a mile off. The whole area is very derelict and only the curious set foot let alone swim. It is supposed to be very good for the skin.
Continue on to Manilva village. The road skirts the town so park the car and wander in. Continuing down the hill on a sharp left hand bend there are a couple of co-operatives selling local fruit and veg at very reasonable prices. The string of garlic make excellent presents. If you bring you own plastic bottle they will sell you vintage Manilva 'mosto' wine. In the late summer they also sell grapes from roadside huts.
You reach the N340 at the coast at the fishing village of Sabanillas. (Sunday morning Flee Market) Enter the village and have a drink of fish supper in one of the bars. Turn right for Puerto Duquesa and Sotogrande, turn left for Estepona, San Pedro, Marbella and all points on the Costa del Sol.
San Pedro to Ronda
Ronda to Gaucin
Gaucin to Casares
Casares to Manilva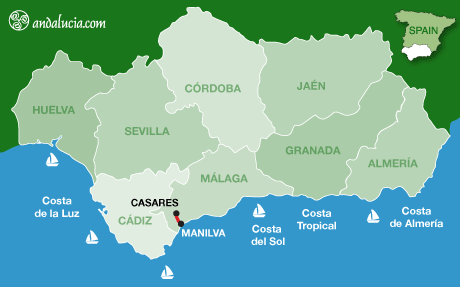 Hover the cursor to see bigger map.