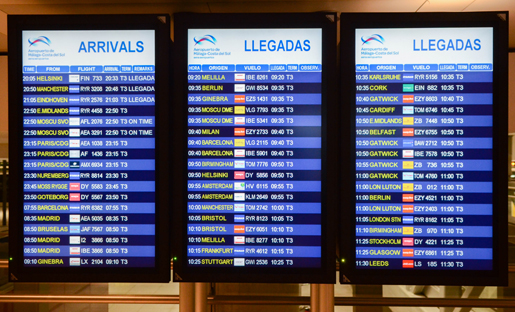 Marbella's closest airports are Malaga and Gibraltar.


Marbella Airports
The nearest airports to Marbella are Malaga to the east (50km or 35 minutes' drive) and Gibraltar to the west (about 75km or 1 hour's drive).
Marbella does have a Marbella Heliport.
NEAREST AIRPORTS
Other airports in Andalucia and their distances from Marbella by car are:


HELICOPTER FLIGHTS FROM MARBELLA 
If you would like a unique and unforgettable travel experience in Marbella, Malaga or Andalucia, then a helicopter flight is a great option.
Helicopter flights and aerial services can be organised for both tourists and private companies, as well as individuals from Marbella Heliport.

This fascinating and beautiful region, with its widely varied landscapes, and so many historical monuments, from the Romans to the Moors and up to present day, deserves to be enjoyed in full - from the bird's eye perspective of a helicopter.

There are whole range of flights designed to enjoy some of the most stunning landscapes in Andalucia. Below we outline popular tour from the locations that helicopters are based:

Marbella Heliport to:
Caminito del Rey,
Ronda,
Torcal,
Vesari Race Resort,
Granada,
Sevilla

Take advantage of your visit to Andalusia and appreciate its outstanding beauty from the sky, you will enjoy a privileged view of this region that few others ever see.

Contact us with details of where you want to fly and we will arange for the right partner company to contact you.