Suggested Walks - Guy Hunter Watts
Walking is one of the very best ways to discover this beautiful region of Southern Spain, Andalucia. Guy Hunter-Watts offers us a selection of his favourite walks in Andalucia. They are taken from his book "Walking in Andalucia - The best walks in Spain's natural parks". The following walks will take about 3 hours each of slightly longer if you take your time. Sturdy boots, a walking stick, a bottle of water and perhaps a locally grown orange or snack will make your journey all the more enjoyable.
The late Guy Hunter Watts
Expert in hiking around Andalucia and best selling author, Guy Hunter Watts, 63 had lived in Andalucia for 30 years. Guy suffered a fatal accident on his eBike decending the MA-8403 from Montejaque. No other vehicle was involved. His family and friends and almost all the village of Montecorto attended his bi-lingual funeral service in the Virgen del Carmen church on 19th May 2023. School friend Andy Warner read the Eulogy followed by tributes from Tiki, Leyla, Seamus and Manfred. He touched the lives of thousands of walkers that he led personally through the mountains of Serrania de Ronda and Andalucia in addition to all those who have enjoyed his books. Guy was a contributor of Andalucia.com and suggested we publish several of his favourite walks in Andalucia for our readers to enjoy.
Walking guide books by Guy Hunter Watts
Buy walking guide books by Guy Hunter Watts
"Walking in Andalucia" by Guy Hunter Watts
Walking in Andalucía is a 260 page full colour guide to some of the very best walks in southern Spain, taking the walker on 34 routes - all starting and most finishing in beautiful villages - in the Natural Parks of Grazalema, La Alpujarra, Cazorla, Los Alcornocales, Aracena, and La Axarquia. Many of the full and half day walks are virtually unknown even though they are a short drive from the Costa del Sol. Even though more and more people are beginning to walk Spain's southern sierras, most of the routes remain blissfully undiscovered. Guy says, 'If you decide to head for the hills with my guide you can be sure of two things: you will be walking through areas of great natural beauty and you will meet with other walkers.'  
Buy a printed or eBook copy online direct from publishers Walking in Andalucia.
"Coastal walks in Andalucia" by Guy Hunter Watts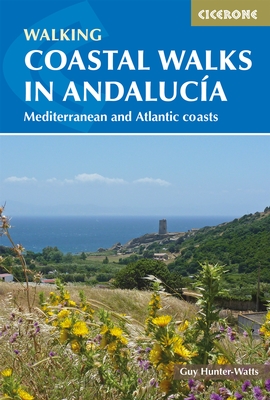 45 great coastal walks close to Andalucia's Mediterranean and Atlantic coasts. Discover the best hiking trails close to Vejer, Caños de Meca, Conil, Tarifa, Bolonia, Gibraltar, Casares, Estepona, Marbella, Istán, Mijas, Benalmádena, Alhaurín, Cómpeta, Fuengirola, Nerja, Maro and Almuñecar. Talk to most people about the coast of Andalucía and they'll picture the small swathe of seaboard that runs from Torremolinos to Estepona, the heartland of what is commonly sold as the Costa del Sol. First associations are of crowded beaches, busy coastal roads and blocks of holiday apartments. Few amongst them will conjure up visions of the mighty chain of mountains, the tail end of the Sierra Subbética, which rises up a few kilometres back from the sea. Nor do they tend to evoke the wilder beaches of the Costa de la Luz or the footpaths that run just a few metres from the Atlantic surf.
Buy a printed or eBook copy online direct from publishers Coastal Walks in Andalucia.
"The Andalucian coast to coast walk " by Guy Hunter Watts
A stunning 21 day, 435 kilometre trail that links the Mediterranean with the Atlantic. The walk passes through six of Andalucia's Natural Parks and protected areas via its most beautiful mountain villages. Far more than a long walk, this on-foot odyssey can lead you to the heart of southern Spain's magnificent sierras and on a life-changing journey of discovery. One of the best things about the simple act of walking is the sense of reconnecting with Nature and the Big Wide World. We've been moving around on two feet for a very long time yet still, in the simple act of putting one foot in front of the next and moving across landscape, it seems that we reassert our identity. Day to day worries fall into insignificance, or rather true significance, when we get out into the mountains and walking is about a lot more than taking exercise.
Buy a printed or eBook copy online direct from publishers The Andalucian Coast-to-coast Walk.
"Walking the Mountains of Ronda and Grazalema" by Guy Hunter Watts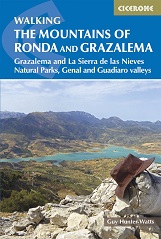 The dramatically situated town of Ronda can make a great base for a walking holiday in the mountains of Andalucía, as can any one of the picturesque 'pueblos blancos' (white villages) that nestle among the surrounding hills. This guidebook presents 32 mainly circular walks in the Ronda region, covering the town and its environs, the Natural Parks of La Sierra de Grazalema and La Sierra de las Nieves (both UNESCO biosphere reserves), and the Genal and Guadiaro Valleys. Clear route description is illustrated with mapping, and the route summary table and 'at a glance' information boxes make it easy to choose the right walk.
Buy a printed or eBook copy online direct from publishers Walking the Mountains of Ronda and Grazalema.
Other walks by Guy Hunter Watts:
Sturdy walking sticks and Andalucian oranges to accompany your journey.