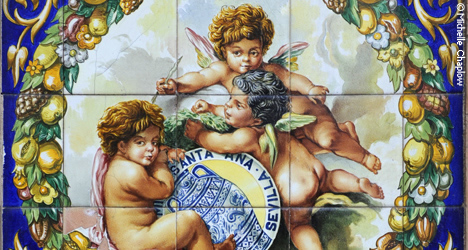 It's an art form in Seville, a serious business. Strolling down Calle Sierpes on a Saturday evening with your family or friends, discussing the merits of the various wares in the window displays, from fans to hotpants - it's an unmissable part of a Sevillano's weekend.
The main shopping area is the square between Plazas Nueva, Magdalena, Encarnacion and San Francisco, with Calle Sierpes at its heart. For more touristy gear (flamenco aprons, T-shirts, bullfighting souvenirs) Barrio Santa Cruz has a wealth of places; for more individual shops, Barrio San Vincente and the Alameda; while for ceramics, Triana is where the beautiful azulejos (ceramic tiles) which adorn many Sevillano bars, hotels, churches and private houses are made.
Most shops are open from 10.00-14.00 and 17.00 to 20.00 Monday to Friday, and 10.00-14.00 only on Saturday, although some larger ones in the centre stay open all day and on Saturday afternoon. Nearly all accept major credit cards.
HANDICRAFTS (artesanía)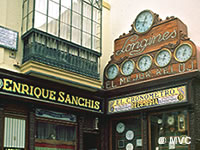 >Enrique Sanchis, watchmaker, Sierpes street
Your visit to Seville isn't complete without a walk over to the old gypsy quarter of Triana, the centre of tile-making. You can watch the craftsmen at work in their studios in C/Alfareros (20 and 22). Don't miss Ceramica Santa Ana (San Jorge 31) with its beautiful tiled façade, a testament to local workmanship. Inside is a treasure trove of every imaginable item of ceramic and pottery, from tiny bowls and jugs to statues and huge pots. The sizeable array of pieces can be overwhelming, so take your time to wander round and absorb it all.
Tiny cobbled c/Antillano Campos has several shops worth a look, including Ceramica Rocio Triana, which has ceramics with pretty yellow and blue designs and large beer mugs, which make great presents. Also on this street is Ceramica Santa Isabel, an outlet for its factory, which has everything from plant pots to earthenware jars. The prices in all these shops are reasonable - around 20 to 25 euros for a large plate or bowl, down to 2 or 3 euros for the smallest bowls.
If you don't have time to go to Triana, there are plenty of ceramics shops elsewhere. Martian and Sevillarte on Sierpes (74 and 66) both have good selections, Sevillarte offering more contemporary Matisse-type designs, while El Postigo (Arfe, near the Cathedral) is an indoor craft market with stalls selling ceramics as well as silver, glass and metal wares. Look out for the mosaic tiled mugs, dishes and mirrors. Coco Seville (Ximenez Encisco 2) in Santa Cruz has tiles, fans and ceramics with modern designs by local artists, as well as hand-painted silk scarves with bold geometric and flower designs. Plates with 18th-century style patterns cost 25 euros. There are some unusual handbags made of small wooden tiles with Chinese-style flower designs, from 35 euros. Plaza Dona Elvira has some small shops selling beautiful Moroccan pottery and ironwork, such as lamps for 15 euros.
DEPARTMENT STORES
El Corte Ingles
Plaza de la Magdalena 1 (clothes, accessories, toiletries, food)
Plaza del Duque 7 and 13 (kitchenware, electrical goods, linen)
It's no exaggeration to say you can buy almost anything here; they claim to offer 500,000 items in their 200 departments. The main store at the top of Sierpes has fashion departments for men, women and children, a great toiletries hall and an excellent gourmet food store, plus a supermarket, both with a wide selection of olive oils and wine. You can also buy English newspapers and magazines. Beware though, prices are steep.
Flamenco Fashion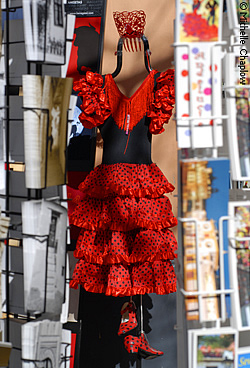 Souvenirs form Seville
Calle Francos has a good selection of shops selling Flamenco dresses. Expect to pay at least 200 euros for a quality one; remember you also need flower, combs, jewellery, shawl, bag, fan and shoes.
Fans cost from 5 euros for the smallest, simplest one upwards. You can get one with pretty carving for 25 euros in Dizal (Sierpes 48), while many shops stock collectors' items made of materials such as ebony and mother of pearl. Abananicos de Seville (Plaza San Francisco 7) has a wide range, including handpainted ones from 15 euros and trademark bold designs and bright colours of ubiquitous Spanish designer Agatha Ruiz de la Prada.
ACCESSORIES
Buying bags, jewellery and sholes (shawls) is a serious hobby for Sevillano women, whether it's for every day, Feria or a wedding. That's why you'll see such a profusion of shops packed with bags of every shape, size and colour, along with mantones (triangular fringed shawls, often embroidered), an essential element of your flamenco outfit (see above). For shawls, you can pay anything upwards of 20 euros for a small, plain one, to 150 euros for a large silk one with hand embroidery. The price depends on the size, fabric and quality of the embroidery.
San Eloy and Alcaicería de Laloza
Near Alfalfa, both are good hunting grounds for complementos (accessories); Aldebaran in San Eloy has an impressive range of bags.
Elena Bernal
Sierpes 50 and branches
Several shops, including one dedicated to flamenco accessories, ie shawls and flowers, in an extraordinary range of colours. The shop opposite has an equally impressive array of bags and jewellery. Elena Berenal is a Sevillano institution.
Prestigio
General Polavieja 3 (off Cuna)
Headpieces made of wisps of chiffon and flowers make an original finishing touch to a wedding outfit. This more upmarket shop also sells dainty shoes and bags.
Casal
Sierpes 73 and branches
This bag shop has a huge range, from workaday beige leather shoulder bags to sparkly purses and vintage-style moulded plastic evening bags.
SHOES
Seville is heaven for shoe lovers. While the many different stores offer a variety of styles and prices, overall the selection is impressive, the quality good and the prices extremely reasonable. C/Sierpes, Tetuán and Huelva are all packed with shoe shops. Nicolas (Sierpes 49 and branches) is slightly more expensive and conservative, Ziro's (Tetuán 11) also pricier and more designer-led - look out for abstract designs from Barcelonan brand Muxart - while Pilar Burgos (La Campana 3) is known for its amazing range of colours. Paco Rodriguez (Sierpes 37) has a good selection of elegant evening shoes with intricate designs, such as Lodi, from Alicante - as well as top-quality sports shoes from Italian company Geox. Many of these shops also sell bags to match your shoes, as the Spanish love their juegos (matching sets).
Flamenco shoes for sale in Sevilla.
Camper
Tetuán 24
Already hugely popular outside Spain with shops now as far afield as Japan and Australia, this highly individual Mallorcan family footwear company counts Woody Allen and Uma Thurman among its fans. Its sturdy, practical unisex shoes and boots feature quirky design touches, such as footprints, or photographs of flowers or animals. The prices reflect the excellent quality; these shoes are built to last but they aren't cheap. Look out for their free bi-lingual magazine, The Walking Society.
CLOTHES
Women'secret
O'Donnell 10 and branches
Beautiful prints, good quality cotton and great lounging clothes make this underwear heaven. Highly recommended.
www.womensecret.com
Purificacion Garcia
Rioja 13
Minimalist, clean lines typify this avant-garde Spanish designer. Some seriously sharp suits for men and women, and the prices aren't bad.
Adolfo Dominguez
Sierpes 2 and branches
Probably the most famous Spanish designer outside his own country, this Galician offers contemporary looks with quirky touches. His men's and women's collections are very wearable and aren't limited to one season.
Zara
Plaza del Duque and branches
Catch the latest women's trends at high street prices, with a wider selection and lower prices than stores outside Spain. Also men's and kids' clothes in the Plaza Nervion branch. The interiors collection, Zara Home, features gorgeous cushions, glasses and bedspreads. Between them, Zara and Mango (below) outfit most of Spain's 18-35 women.
Mango
Velazquez 9 and branches
Leather goods are especially good value from this Barcelona-based women's fashion haven, but funky tops for going out are just as desirable. This brand new store has a large main area with a glass ceiling making it beautifully light, as well as offering lots of seats for tired shopping companions to wait in comfort.
Homeless
O'Donnell 16
Cool, sophisticated women's clothes, with the added bonus that all the profits from its SOS line to homeless charities. Look out for the Prada-style prints and gorgeous eveningwear.
Springfield
Plaza del Duque 2
Men will love this store with its great range of good quality smart casual shirts, trousers and jackets, plus a good selection of quirky shoes.
FOOD
Food is life here, a Sevillano can argue for hours about whether the best jamon serrano (cured ham) comes from Huelva or Aracena. Recommended buys are local produce: sherry, olive oil, marmalade and, of course, ham.
Club Gourmet, El Corte Ingles 
Plaza de Duque
As mentioned above, this department store has an excellent food hall with a wide selection of olive oils from Andalucia, plus an excellent gourmet food store on the fifth floor, with speciality wine, beer, soft drinks, cheese, and fish and meat delicacies. The gift section (opposite the lift, as you arrive) has lots of biscuits, pastries and sweets in very pretty tins. Useful if you don't have time to shop around, and the quality's always top-notch. Plaza del Duque de la Victoria, 8, 41002 Sevilla. Tel: 954 597 000. Open Monday to Saturday 10:00 to 22:00 hrs. More>
Meson Cinco Jotas
Castelar 1
Jamon serrano is measured in Js, so five Js has got to be top quality stuff. The prices are steeper than elsewhere, but at least you know you're getting the best.
Supermercado Baco
Plaza Ponce de León 15
Specialises in bacalao (cod) but also has a good selection of cheeses and Spanish wines.
MARKETS
There is a flea market every Thursday on Calle Feria, and an art market on Paseo de la O by the river in Triana, on Saturdays and Sundays. An organic market takes place in the Alameda on the Saturday of the month.
BOOKS
La Casa del Libro (Velasquez 8 and branches) and Libreria Beta (Sagasta and branches) have fiction and travel books in English.
NEWSPAPERS
There are shops selling a good range of foreign newspapers on Alemanes and Mateas Gago, plus at various newsstands around the centre.
Shopping Centres
Modern and Convenient shopping centres are located in Seville city and outside the city in the surounding satelite towns. More>
Destinations