MÁlaga Airport Accessibility and Special Assistance for Passengers with Disabilities
Malaga airport meets EU accessibility standards.
Málaga airport meets EU accessibility standards and is well equipped to ensure that travelers with special needs can move about the facility. If you have special needs, you will find adequately adapted restrooms, designated waiting areas, ramps, elevators and security checks that accommodate your needs. However, if you need assistance getting through the airport or boarding or disembarking from your flight, it's important to arrange this in advance. 
The first step is to inform the airline that you are a passenger needing special assistance, but you should also make arrangements directly with the airport services minimum 48 hours before your journey. For assistance in English, ring one of the following numbers and wait until the messages begins in English. You will be instructed to say "English" at a certain point in the message in order to be connected with an English speaking operator.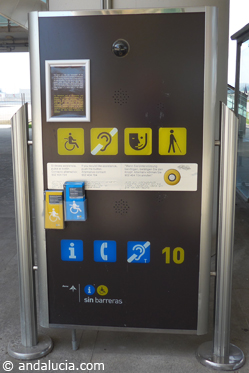 Intercom for assistance at Malaga Airport.
From within Spain, you can ring 902 404 704.    
From outside Spain, you must ring (+34) 913 211 000. 
 Be sure to note down your assigned "Meeting Point". These are official, clearly marked points throughout the airport where personnel meet travelers to assist them on their way. You must be at the Meeting Point at the agreed upon time – however, if you have not been given a specific time, arrive two hours in advance and use the Meeting Point intercom to inform the staff that you've arrived and are waiting.
Mobility Impaired/Challenged Travelers
 In addition to the phone numbers provided above, there is an online request for you can use to arrange transport/assistance throughout the airport. Visit this page: Assistance for Persons with Reduced Mobility  – for more information and to access the online form. 
When arriving by car to the airport or being picked up from the airport, there are specially designated areas in arrivals/departures for mobility challenged travelers.
Hearing Impaired Travelers 
The Málaga airport has a special mobile/cell phone service available for hearing impaired passengers. Visit this website to download the necessary software into your cell/mobile phone: Telesor. 
Once you've installed the software, you can make inquiries by ringing one of these numbers: 
Inside Spain: 902 404 704          
Outside Spain: (+34) 91 321 10 00 
This service allows you to get answers to your questions in real time via SMS text messages to your phone.
Visually Challenged Passengers
Passengers with sight problems do have a special system to work their way around the airport. However, insider sources report it's best to use the system for reduced mobility travelers. This is due to the fact that the system for visually challenged travelers uses a system of information posts, which you must first be able to locate in order to use the system.
Destinations