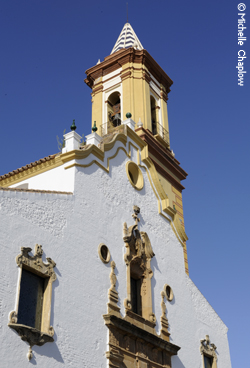 Nuestra Señora de los Remedios
The church of Nuestra Señora de Los Remedios is close by in the Plaza San Francisco. It was built in the 18th Century of local sandstone, which is rich in iron ore. As you walk around the outside walls, you will see many pieces of iron ore still embedded in the stone blocks.
For more than forty years during the middle of the 18th century, it was a Franciscan monastery - the hermitage of Vera Cruz. Later it became for a time the hospice of La Purisma. The main door of the church, indeed the church as a whole, is an odd mixture of American colonial architecture and rococo, and in the entrance archway stands a statue of the Virgin Mary with a relief showing the sun, moon and stars. The effect is curious and not entirely satisfying, although this is undoubtedly an impressive building in many ways.
The above text was reproduced from the the book "In Search of Andalucia" by kind permission of the authors David Wood and Chris Wawn. Click here to order your copy from our online book store.
GPS Location: 36º 25' 32'' N 5º 08' 44'' W
Destinations