One of towns that on the famous white towns (Pueblos Blancos) route that can be reached through the Sierra of Cadiz.
Although the town is of Muslim origin, we know it was inhabited in prehistoric times through the traces of megalithic culture that can be found in the Dólmenes del Tomillo.
The passage of time is also reflected in several other monuments, for example, at the 16th century Monasterio de Caños Santos, situated 6 kilometres from Alcalá del Valle.
The church of Santa María del Valle, a pillar in the town's history, and Fuente Grande are some of the must-see sites when you visit this Cadiz town.
One of the historical events which is a reference point in this town's history and its people's memories was the succession of 1903, when a workers' demonstration showing support for Spanish prisoners ended in tragedy. The town hall's records were set alight and so a great chunk of the town's historical memory was lost forever.
Its position in a valley of the Sierra allows you to explore the local rich and natural beauty by pulling on your hiking boots - you can admire the valley's oak and eucalyptus trees or follow the lengthy streams and rivers.
Quality crafts are produced from the town's surroundings. The most popular local gastronomic produce is its sausages and especially its pata negra ham. As well as these, the region is known for its tasty asparagus and some sweet desserts, such as suspiros.
The town holds various typically Spanish festivities and celebrations that include the Carrerita de San Juan (declared of national tourist interest), which is celebrated on Resurrection Sunday. This involves the locals running through their streets with the said saint on their shoulders, toward the Virgin to inform her about the resurrection.
On 1 May the Pilgrimage of Caño Santo is celebrated and all the residents process toward the monastery on foot.
As well as the parades and complimentary activities, the lanzamiento de búcaros (vase throwing) contest is a definite highlight during the February carnival.
Alcalá de Valle is situated around 150km from Cadiz city. To get there from the city you take the AP4 (direction Jerez) and then the A-382 (Jerez-Arcos) and A384 Arcos to Olvera. Once you're there, head along the CA422 until you reach Setenil de las Bodegas. After this town you must continue a further 10km along the CA421 to reach Alcalá de Valle.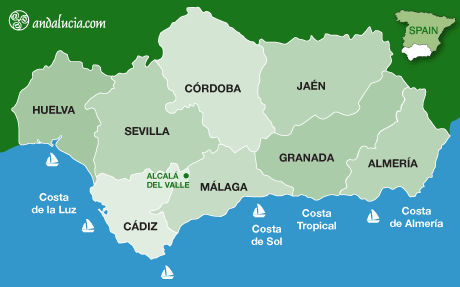 Destinations