A town located in the Sierra of Cadiz, part of the white town route and whose municipality boundaries stretch into the National Parks of Alcornocales and Grazalema.
Around 4km from the town, located at the highest point of what is known as la Cabeza de Hortales, you'll find an important historical legacy - the Roman city of Iptuci. There you can see resting places from the Palaeolithic, Neolithic and Bronze Ages, although it reached its greatest size in the Roman era, being so large that it even had its own currency.
Other notable monuments in this mountainous locality are the Pósito de Labradores (workers' granary) and the temple of Nuestra Señora del Carmen.
Other things on offer are various hiking routes, thanks to the richness of the natural surroundings. One such route is the Lomas hike, where you can appreciate the local flowers and wildlife. Another choice is the Cero del Verdugo hike that takes you amongst the towns' surrounding land and up to a vantage point where you can appreciate the stunning views of the municipality.
In terms of traditional crafts, they specialise in leather products and chair making; the leatherwork is exported globally and so is considered a major economic driving force for the local area.
In terms of gastronomy, olive oil and homemade sausages, as well as honey, are all part of the local menu. Pajarete (wine mixed with honey and fruit) is a well-known drink from the town.
Prado del Rey's most important celebration is the Concurso Nacional de Cante por Serranas. This is celebrated annually on the last Saturday of August. Other celebrations include the procession of San Isidro Labrador (14/15 May), la Velada de Nuestra Señora del Carmen (16 July) and the Feria del Ganado (celebrated the first weekend of September).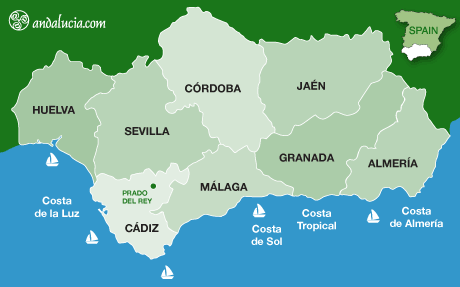 Destinations