Known as a splendid place to see breathtaking sunsets, the village of Trebujena lies to the north of Jerez de la Frontera, on the main road from San Lucar de Barrameda to Lebrija. It is bordered to the south by gently rolling countryside and on other sides by the marshlands adjoining the Guadalquivir. Just across this wide river is the Doñana Natural Park, one of the most important, environmentally protected areas in Andalucia.
There is evidence that Phoenicians, Greeks and Romans settled here and the village was a centre for the trade of olive oil to the Middle East. Later on it was colonised by the Moors, before being conquered by the Christians in the 13th century. At the end of the 15th century, Juan Pérez de Guzmán, a descendant of Guzmán El Bueno and duke of the House of Medina Sidonia, one of the powerful Renaissance families in the realm, decided to populate his lands near the Guadalquivir. He granted concessions to anyone who would live there and these details are recorded in the most important historical artefact still held today in the archives, the Carta Puebla.
In the centre of Trebujena, the Hermitage of Nuestra Señora de Palomares, built in the mid-18th century, is worth a visit, as is the ancient Molino de Viento. Only the round structure of this windmill remains but, due to its elevated position on the outskirts of the village, it is possible to enjoy extensive views over the picturesque rooftops and beyond.
Apart from the traditional carnival, other festivities include the annual fair in the second week of August, coinciding with celebrations to pay tribute to the village's patron saint, Nuestra Señora de Palomares and, at the beginning of December, the Fiesta Concurso de Cocina y Mostos. The latter, held since 1979, consists of a competition to cook the best dish of garbanzos con conejo – chick peas with rabbit. It is also an opportunity to toast the arrival of the mosto, juice pressed from the first grapes of the season.
Grapes are grown on much of the land owned by the people of Trebujena and there are two co-operatives which process those brought in from the surrounding area. Fish farming is on the increase, especially prawns and grey mullet which feature high on the menus of the village. Tortillitas de camarones are a speciality.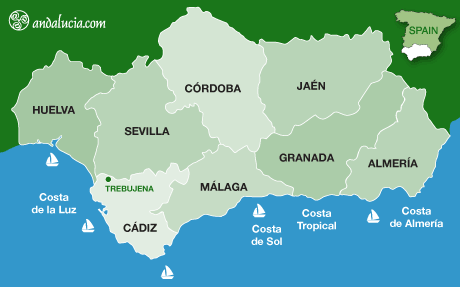 Destinations