El Gastor
The village of El Gastor is just off the main road north-west from Ronda to Algodonales and a few kilometres from Zahara de la Sierra. It is also known as the 'Balcony of the White Villages' because from the two mountain peaks in its municipality, El Algarín and Las Grajas, there are magnificent views of other little villages in the area and the surrounding countryside.
History
The region has been settled since prehistoric times and around El Gastor evidence has been found of dolmens, or Megalithic burial grounds. The most famous of these is El Charcón, commonly known as the 'Tumba del Gigante'. This 'Giant's Tomb' dating from the Bronze Age is formed by three-metre high stone pillars and a nine-metre long passageway, similar to the Dolmen de Menga and others near Antequera. Also fascinating to the visitor because of their size are the two caves lying on the outskirts of El Gastor. The Cueva de Fariña, with its extremely narrow entranceway, was a cave much used by bandits in past centuries. The Cueva del Susto, situated in the Sierra de Grazalema Natural Park, has several galleries leading to an enormous chamber with a multitude of stalactites and a large underground lake.
Holiday homes to rent
Things to See
The old Hermanos Palomino mill has been well preserved and, although now under private ownership, can be visited in order to see the vast, revolving circular stones, used to press the olives gathered from the surrounding countryside, and the deposits where the oil was collected. Also of interest is the Museo de Usos y Costumbres Populares, a museum dedicated to El Tempranillo, one of the most famous bandits in 19th-century Andalucía. Situated next to the Town Hall, this museum exhibits ancient agricultural and household tools depicting the traditions and customs of the region and other items used over the centuries.
Festivals
The most important festivity of the year in El Gastor is the celebration of Corpus Christi in the month of June. On this day, all the inhabitants decorate their streets with flowers, branches and grasses and create floral 'altars' outside their houses. Following the morning Mass there is a procession through the village. In the afternoon the Gaita Gastoreña contest takes place. This particular type of gaita is a wind instrument made from the horn of an ox or cow. At the wide end is inserted a short piece of hollow wood into which is placed a thin reed to be used as the mouthpiece. Of Iberian origin and still made today in El Gastor, it is unique in the world.
Gastromony
The gastronomic specialities of El Gastor are its guisote, a tasty stew made with breadcrumbs, wild asparagus and garlic, and also its special chicken dish with almonds. Fresh tomato soup, black pudding, chorizo and chicharrones (pork scratchings) are also very popular.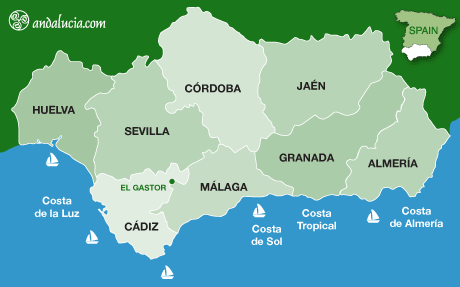 Destinations