Paterna de Rivera
Sitting in the centre of the province of Cadiz, Paterna de Rivera is at the crossroads of the Ruta del Toro. Connecting Medina Sidonia to the south-west with Alcalá de los Gazules to the east, and Jerez de la Frontera to the north with Los Barrios to the south, this 'route of the bulls' runs through some of the most beautiful undulating countryside of Andalucia. The area, where the animals graze freely over acres of rich grassland, is home to many of the most important bull-breeding ranches in Spain.
A few remains have been found around Paterna de Rivera dating back to Neolithic times. More abundant are those from the Roman era, such as mosaics or tombs and especially coins from Gades, the modern town of Cadiz, evidence of wealthy families coming here to take the waters at the Baños de Gigonza. When the Moors arrived they also took advantage of the healing waters of Gigonza, along with those of Fuenta Sana, and the area became known as the Valle de los Baños, or Valley of the Baths.
After the Christian Reconquest, Paterna became the property of the Ribera family. In 1503 it received its official town charter, but it was not until the 19th century that it began to prosper, thanks to the revival of the fashion to 'take the waters'. Visitors came here from far and wide during the months from June to September. Also around this time the cattle fair was established and this continues to be an important feature to this day.
Flamenco has long played an important role in Paterna de Rivera and a sculpted bust of the well known singer nicknamed the 'Perro de PaternaÂ' pays homage to the late Antonio Pérez Jiménez who was born in the village. There is also a monument dedicated to 'La PeteneraÂ', a girl called Dolores after whom the 'peteneraÂ' style of singing is named and, since 1975, the village has played host to the National Petenera Flamenco Song Competition.
The parish church of Nuestra Señora de la Inhiesta is worth a visit to see the intricately carved wooden ceiling and the stone cross-vaulting of the side aisles. It is built in the mudéjar style, with gothic and renaissance elements. Its main door, opening on to the Plaza de la Constitución, is to one side of the church and forms part of the base of the bell tower.
Gastronomy in the village is principally based on game and what can be found growing in the surrounding countryside. Many recipes use cardoon or tagarninas (two types of thistle). Other local specialities include artichokes cooked with Serrano ham and hard boiled eggs, snails with fennel, coriander and mint, or partridge stuffed with Serrano ham and pine nuts. Rabbit and venison are also on the menus. Pastries made with pine nuts and meringues add a sweet touch to the region's cuisine.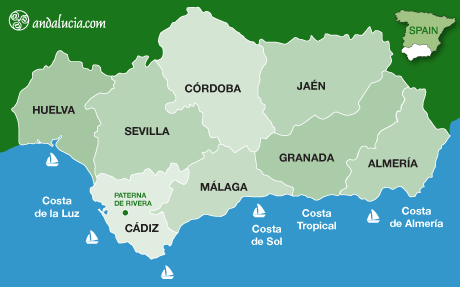 Destinations