Benaocaz
Famous for its vegetables and abundant water, this pueblo blanco in the Parque Natural de Grazalema> has a long history. In fact, you can see a Roman calzada (road) 3km outside the village, which used to join the town with neighbouring Ubrique, Villlaluenga del Rosario and Grazalema itself. It is at 790 metres, and is high enough for snow to fall.
Further evidence of Benoacaz's past is visible in the 8th-century Barrio Nazari, in the upper part of the village, where you can still see ruined houses and flights of steps dating from Moorish times (the name comes from the Arabic Ocaz family, Ben meaning "son of"). Learn about the history of mankind's relationship with nature since prehistoric times (there are Neolithic caves nearby) in the town's museum, Ecomuseo Histórico de Benaocaz. It also has a theatre.
Important buildings to look out for include Ermitas San Blas and Del Calvario, and the parish church of San Pedro, as well as the Town Hall.
The ruined Castillo de Tavizna is outside the town, on the Ubrique-El Bosque road, near the Tavizna river; you can still see its large courtyard.
This area is perfect for hiking, with one famous trail being to the poetically-named Salto del Cabrero (Goatherd's Leap), a pass with 80-metre sheer walls; look out for eagles and vultures. If you enjoy climbing, Monte Taillo offers spectacular views of the Sierra de Cadiz.
Internationally renowned leather Master Craftsman José Luis Bazán lives in the village, and also has his workshop here.
Local specialities include charcuterie, ajo caliente (garlic soup), scrambled eggs with wild asparagus, local cheeses and pastries.
The town's feria, held from 12-15 August, is called the Suelta del Toro del Cuerda, and dates from the 15th century. Its romería takes place on the first Sunday in June, for patron saint San Esteban, while on 3 February its co-patron San Blas is celebrated.
How to get there
Benaocaz is 100 km east-north-east of Cadiz. The village sits on the A-374 between Ubrique and Villlaluenga del Rosario leading to Grazalema.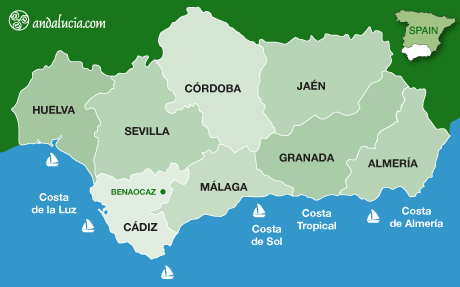 Hover the cursor over Benaocaz to see bigger map and click to go to the maps page.
Destinations