One of the many white villages in the province of Cádiz, Algar looks towards the north-eastern end of the extensive Guadalacacin reservoir, from where its inhabitants and visitors can enjoy spectacular sunsets over the water. Lying some 20 kilometres from Arcos de la Frontera, it is flanked by two of the most important natural parks in the province: Alcornocales and Grazalema.
There are a few remains dating back to Neolithic times, but the name of the village derives from the Arabic al-gar (the cave) of which there are many in the area. The Moors left no traces of having settled here other than the 13th-century Castillo de Tempul, but only a small corner of one tower of the castle is left standing. The existing village was created in the late 18th century when Domingo López de Carvajal, a rich aristocrat, purchased a large tract of land from the town hall of Jerez de la Frontera and subsequently re-settled poor folk from the surroundings villages. Legend has it that having been saved from a tropical storm on one of his trips to Mexico he promised that when he returned home he would do something to help the people.
The parish church of Santa María de Guadalupe, built in 1762, dominates the main square. From here the winding village streets, with their white-washed houses and multitude of vibrant hanging plants, radiate out haphazardly making exploring even more interesting. You never know what you will find around the next corner: for example, the solid 18th-century Town Hall, whose façade has recently been renovated, or the stone-built bullring dating from the early 20th century.
The annual fair in honour of its patron saint takes place in September when an image of Santa María de Guadalupe is carried through the village on a carpet of salt. Every spring, motor enthusiasts head for Algar when the car rally takes place. It is one of the qualifying races that goes towards winning points for the Andalusian Championship.
Algar lives mainly from its agriculture and cattle, leather and wood products, and rural tourism. There is also a cheese factory making fresh and cured goat's cheese. Local dishes are typically those cooked with game, such as venison, partridge, pheasant and rabbit. Tagarninas, a type of wild thistle, is widely used, either with eggs or in soups and snails in a piquant sauce or garlic soup are specialities. Also to be recommended is the confectionary, the home-made bread and quince jam, all made in the village.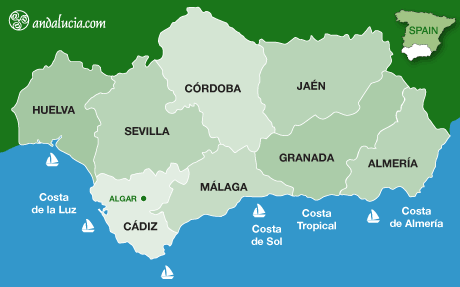 Destinations