Villamartin
This white village, in the north of Cadiz province, is located in an area rich with wildlife, on the Embalse de Bornos (Bornos Resevoir), as well as offering many interesting historic sites. It has about 12,000 inhabitants.
MAIN SIGHTS
Villamartín has several historic monuments, such as the 17th-century Iglesia de las Angustias, the Casas-Palacio de Los Topete y de los Ríos, and the Parroquia de Santa María de las Virtudes.
Plaza de la Ayuntamiento has an interesting tiled fountain in each corner and four very tall palm trees. The brick benches around these trees feature Portuguese-style blue and white ceramic tiles depicting local scenes. (Location Map: 36.860953, -5.641732)  
From the square walk up the "Calle de la Subida de la Iglesia" to
Iglesia de Nuestra Señora de las Virtudes The present building was constructed in several sections: the original 16th-century church was Mudejar-Gothic, with three naves separated by arches on pillars. The tower, which also houses the entrance and is composed of two bodies supported by fluted Ionic columns and a second curved pediment, was designed in the mid-16th century by Hernan Ruiz II. Following this, chronologically, are the Renaissance-style transept and chancel, which date from the late 16th century. Bell housings are square with semicircular openings, while the pyramidal spire is finished with ceramics, while the altarpiece is the latest part, dating from the 17th century.
OUTSIDE TOWN
Torre Pajarete or La Fortaleza de Matrera (Matrera Castle) is a 16th-century fort with a perimeter wall over 0.5km long, located on top of a 500-metre-high limestone hill outside the town which offers panoramic views. The citadel was used as part of Seville city's defensive line against the Moors. To visit from Villamartin take the A-373 towards Ubrique; it is at km 9.5. (Location Map: 36°48′26″N 5°33′57″W)
More info in Spanish on the town hall website

Dolmen de Alberite Just four kilometres from Villámartin, in the Sierra de Grazalema, this archaeological site is located within the megalithic Alberite necropolis. It was discovered in 1993 and, dating from around 4000 BC, is one of the oldest in Spain. Figures engraved on walls, human remains and funerary objects (now housed in the town's Museo Historico) were found in the 20m-long gallery, whose stones weigh up to 8 tons. (Location Map: )
More info in Spanish on the town hall website, including a diagram of how the dolmen would have looked.  
El Santuario de La Virgen de las Montañas is located 8km from the town, near the Fortaleza de Matrera. The old hermitage is consecrated to Virgen de las Montañas and to San Ginés, patron saint of the winegrowers. This is the destination of the town's Romería on 8 September.
NATURAL AREAS
It's worth heading out of town to visit the "El Tarajal" nature spot, located near the Cola del Embalse de Bornos. 
HISTORY
A few Roman villas, which were dedicated to agriculture, passed to the Visigoths and Moors. In medieval times the Castillo de Matrera guarded the border at the time of the Reconquest. The actual town was founded on 4 February 1503 by a charter granted in Seville to a group of 118 residents.
HANDICRAFTS
Local crafts focus on leather goods and saddlery; nearby Ubrique is the most famous town for producing these goods in the area. These traditional practices have remained constant over the centuries, thank to the town's continuing livestock tradition.
GASTRONOMY
Tomato and asparagus soups are popular local dishes, and sweets such as cream puffs, known as cuernos (horns), are also part of the local gastronomy.
FESTIVALS
Various important days of celebration in Villamartín include:
The romeria to the Santuario de la Virgen de las Montañas, 8 or 9 September (see above).
"Día de Santa Ana" on 26 July,
"Feria del Pueblo", usually held in spring.
BUS TIMETABLE
Bus timetable to other towns in the area is here
GETTING THERE

Puerto Serrano is 87 km from Cadiz, 175 km from Malaga Airport and 75 km from Seville. From Cadiz or Jerez take the A-382 around Arcos de la Frontera, then the A-384 to Bornos and follow the reservoir to Villamartin. From Seville take the A-375 past Utrera and Puerto Serrano. From San Pedro (Malaga) take the A-397 to Ronda then A-374 to near Algodonales then A-384.
NEXT VILLAGES
Nearby villages are Puerto Serrano and Montellano towards Seville; Bornos towards Jerez; Algodonales and Olvera towards Antequera; El Gastor and Montecorto towards Ronda; and Zahara, Prado del Rey, El Bosque towards Grazalema.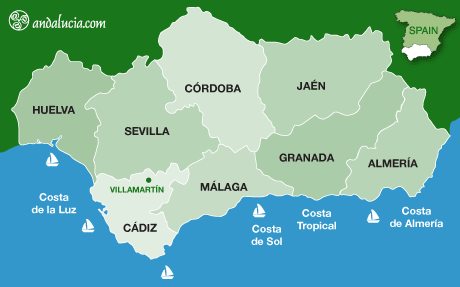 Destinations