Medina-Sidonia

Medina Sidonia is an unspoilt, ancient hilltop town, little-known despite its important history.
The town was one of Spain's most important ducal seats in the 15th century; producing an admiral who led the Spanish Armada against England. The title of Duque de Medina Sidonia was bestowed upon the family of Guzmán El Bueno, of the Tarifa siege, for his valiant role in taking the town. Until recently his direct descendant and holder of the title was the controversial socialist, Duchess of Medina Sidonia, known as the Red Duchess, who lived in Sanlucar de Barrameda. The village is a fascinating and typically picturesque place to visit, with medieval walls and tidy narrow cobbled streets flanked by rows of reja-fronted houses.

Sights to See
Plaza de España - Elegant rectangular plaza with plenty of public seating, surrounded by handsome three storey buildings.

The Town Hall - A 17th-century building reflecting Baroque and Neo-classical architecture with a magnificent Renaissance façade.

Santa Maria la Coronada Church - Built on the foundations of the original castle and later a mosque, this church is a fine example of Andalusian Gothic architecture. Inside there is an enormous 15m-high exquisite retablo, depicting scenes from the life of Christ.

There is also a fine sculpted image of Cristo del Perdón attributed to Luisa Roldán, and several 16th-century benches that were apparently used by the Inquisition. During Roman times, Medina was known as Asido Caesarino.

Some remarkable Roman sewers still exist from this era (entry on Calle Espíritu Santo 3) that date from the first century AD. The sewers stand over two metres in height and are a tribute to Roman engineering skills. 

Medina Sidonia also has three Moorish gates including the magnificent Arco de la Pastora, close to the Jerez road.
A Campo Abierto Visit Alvaro Domecq horses and brave bulls in freedom
A Campo Abierto Visit Alvaro Domecq horses and brave bulls in freedom
You will enjoy a 700 meter walk watching the bulls in their habitat, birds, rabbits... The bulls ecosystem flora and fauna. The breeding mares and foals looking safe and confident beside its mothers, tomorrow this littleone will be another member of the stable. A horse for riding, for work and for dressage.

Restaurants
For the one of the best restaurants in the area and without doubt the very best views - head for La Vista de Medina opposite the magnificent Iglesia de Santa María la Coronada. The restaurant's south-west facing terrace offers spectacular views, and the enchanting dining rooms are perfect for the occasional days when the sun isn't shining. A handful of bars around the elegant Plaza de España includes the charming La Cevecería tucked in between Bar Cádiz and Bar Ortega. For something more formal, check out Hotel Duque which specialises in excellent meat dishes including hearty local game.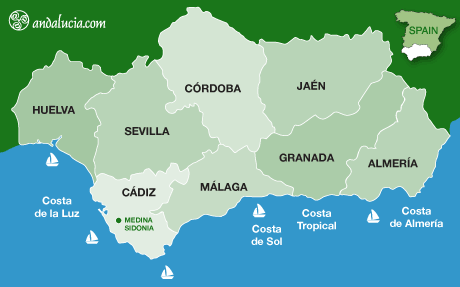 Destinations