El Bosque
El Bosque is is 32 kilometers east of Arcos de la Frontera and 18 kilometers west of Grazalema and 5km west of Benamahoma. It is 287 meters about sea level and in easy reach of the Parque Natural de la Sierra de Grazalema, in fact El Bosque is considered to be the gateway to this immense nature reserve, covering 53,500 hectares (207 square miles). You can obtain a walking permit and information on walking routes at the park's visitor's centre, which is based in the town of El Bosque.
Apart from the natural, unspoiled routes through the Sierra de Grazalema Natural Park, the area is also popular amongst those who enjoy hunting and fishing. The town is proud of its excellent trout farm (the most southern fish farm in Europe), which is an interesting visit to add to your agenda while in the area. Cold meats and fresh trout are the gastronomic specialties well worth sampling in el Bosque.
The picturesque village, with its narrow winding streets, was founded by the Duke of Arcos, when it was named Los Baños del Duque. It was later called Marchenilla and then at the end of th18th Century the village was renamed Santa Maria de Guadalupe de El Bosque, due to the great devotion of the Duke and Duchess to the Virgin of Guadalupe. Due to heroic efforts during the War of Independence, Fernándo VII proclaimed the village a Town in 1815. Although classified as a Town rather than a village, there is still only a population of around 1,800.
The accommodation in and around the town is fairly modest, with a youth hostel and a camping area just outside the town and there are fewer bars and restaurants than in the more highly populated coastal areas, offering simple menus at affordable prices.
What to see
Historical points of interest worth visiting in El Bosque are, the 18th Century Hermita del Calvario, the Church of Nuestra Señora de Guadalupe - also from the 18th Century and the old mill - the Molino del Duque, from the same era.
Gastromomy 
This is a village that makes its own highly prized cheese and sausages.
Festivals, Annual celebrations in El Bosque
Carnival at the beginning of March 
 Semana Santa (Easter Holy Week)  
From the 13th to 15th of June the local Romería (procession) and fair 
15th August is the fiesta of María de Auxiliadora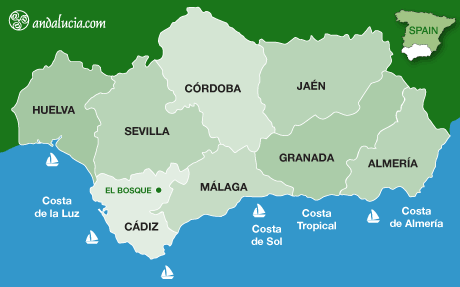 Destinations