BENALÚA DE GUADIX
Legend has it that San Torcauto was made martyr in Benalúa de Guadix and buried where we now find a small chapel in his honour.
Banalúa de Guadix has been built on a clay land that has made it easy to carve out the surprising cave-houses, typical of the area.
THINGS TO SEE
Do not miss the cave-houses. Some have even been converted into tourist accommodation, which make it super easy to live the experience first hand.
Other places of interest are the archaeological sites at the Cerro del Gallo and the Parish Church of Nuestra Señora del Carmen, formed by joining two temples: one of the 16th Century –nowadays, the transept- and another dating back to the 19th Cenitry, with a New Mudejar style. 
HANDICRAFTS
As can be expected by a village nestled in red clay hill countryside, the typical handicrafts made at Benalua de Guadix are crowned by clay, esparto grass, cane and embroidery works.
GASTRONOMY
Food lovers will be able to enjoy extremely tasty dishes such as those made with quails, partridge, rabbit, barbecued lamb, Spanish spicy sausage and black pudding. Other typical dishes for those with a sweet tooth are the butter confectionery, the Tortas de pringue (resembling a sweet pastry) or Guiso de Tarbinas de Matalahúva (an aniseed pudding).
FESTIVALS
Those living in Banalúa de Guadix don't go on long periods without festivals. Their festival calendar is well distributed throughout the year:
San Anton, on the 17th January.
San Jose, 19th March, with a religious ceremony (Spanish Father's Day).
San Torcauto, in May, with a religious pilgrimage.
Virgen del Carmen, on the 16th of July.
LOCATION
Banalúa de Guadix is located at just about 65 kilometres from Granada. From Granada, we take the A-44 towards Jaén. Take the 118 turnoff towards Murcia. On the A-92 motorway, turn off at exit 288 and drive through Purullena and continue on the GR-NE-48 until you get to the village.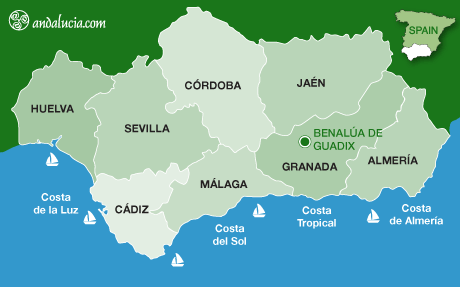 Destinations