Hotels in Andalucia
As one of the world's top holiday destinations, Andalucia has a superb selection of hotels – as you would expect. Whether you want an avant-garde designer city spot, a quintessentially traditional place with tiled arcaded patio, a rural country-house bolthole, or a beachfront resort, you'll find it here.

Coastal Hotels
One of the main reasons visitors come to Spain is for its fabulous beaches and year-round sunshine. From luxury resorts in the most exclusive beachfront locations, populated by celebs, to tiny boutique hotels or welcoming family hostels, every beach babe will find something to suit along the coastline. Bustling resorts, or small seaside towns, couple, single or family, young or young-at-heart, everyone's heart is warmed by a stay at an Andalucian beach hotel.

City Hotels
City-centre hotels are often in the very heart of the historic district, so you can experience the most beautiful streets after the crowds. Alternatively if you want easier access, or prefer a location close to the train station or airport, will always find a hotel just outside the centre, or close to your business venue or special event.

Rural Hotels
Down a winding track bordered by olive, almond, orange or oak trees, that out-of-the-way hacienda is waiting for you. Relax by the pool, take a stroll around the grounds, go horse-riding – and soak up those stunning views.

Paradors
These state-run hotels are often in converted historic buildings, such as castles, palaces or convents. Sympathetically converted, they offer atmospheric accommodation with many original features. Some are located in uniquely privileged places offering an unforgettable experience, such as inside the Alhambra palace, or in a hilltop castle.

Famous Hotels
Andalucia has landmark hotels, famous for their unusual architecture and unique character. They may have played a special role in the local history of their location, such as the Alfonso XIII hotel in Seville, which was built for the Expo 1929, or the Parador de Granada, housed in a former San Francisco monastery inside the palace complex.

Themed Hotels
Choose the type of hotel you want from a list we have compiled of over 60 different types of hotel in Andalucia. From sports to relax, large chains to family boutique, from city to village and rural. Chech for hotels with those facilities that interest you.
Coastal hotels in coastal zones: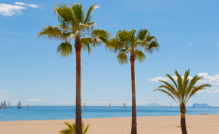 Costa del Sol
Andalucía's Sunshine Coast boasts sweeping sandy beaches. >>
Costa de la Luz
Long, unspoilt sandy beaches backed by sand dunes and pine trees. >>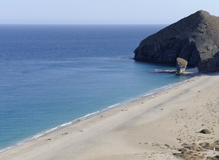 Costa Almeria
Costa Almeria is home to natural parks and peaceful beaches. >>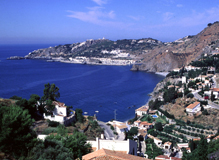 Costa Tropical
Costa Tropical offers a subtropical climate, spectacular cliffs and sandy beaches. >>