In the village of Coin there are various shops with hand made ceramics on sale.
Alhaurin El Grande to Coin
From Alhaurin El Grande follow the signs to Coin. This stretch winds through lush agricultural terrain with densely populated groves of orange and lemon trees stretching off into the distance.
In fact, in bygone years, the area was called the 'town of 300 orchards'. Nobody's counting these days but the trees still seem to be here.

The fortress town of Coin has a population of some 20,000 and, according to locals, Christopher Columbus was among the royal followers when the Catholic monarchs laid siege to the town in the mid-fifteenth century. No chance of bypassing the town even if you choose to, the road weaves through the bustling centre, past the colourful local fruit and veg market.
Coin is difficult to navigate but follow the signs from Monda and Marbella and not Ronda for our Coin to Monda route.
Mijas to Alhaurin el Grande
↓
Alhaurin El Grande to Coin
↓
Coin to Monda
↓
Monda to Ojen
↓
Ojen to Marbella and on to Istan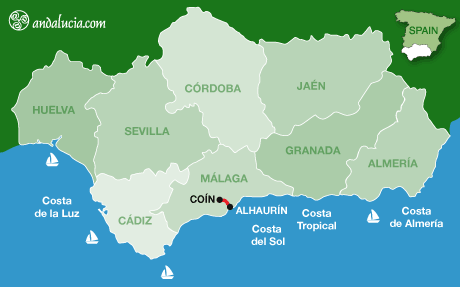 Hover the cursor to see bigger map.
More driving itinerary from the Costa del Sol
If you want a break from the clamour and crowds on the Costa then explore Mijas, Alhaurin, Coin, Monda, Ojen and also Istan. The scenery is quite spectacular and the roads are well-travelled, yet… More →
One-Day-Itinerary to explore the countryside around the towns of Ronda and Gaucin. This route starts at San Pedro de Alcantera, just past Puerto Banus, and ends up just a few kilometres down the… More →
CAR HIRE
Hiring a car is best way to tour Andalucia. Travel with ease, stop where you want and enjoy the beautiful views!. We have a page about every village including things to see. Consult our general Car Hire page for car hire tips and advice on rental groups, insurance excess, young drivers, DVLA code, fuel policy and security, plus links to a range of car hire companies. Check out our specific car hire pages in each of our airport and main train station pages. Malaga Airport Car hire, Gibraltar Airport Car Hire.