Driving itinerary Monda to Ojen
From Moonda stay on the A-355 and you won't get lost. The scenery is more mountainous here with uncultivated, wild countryside while, a little further on, there is a right turn which leads to the valley of the hotel, Refugio de Juanar, built on the foundations of a hunting palace.
The road continues to Ojen through forests of pine, eucalyptus and oak and past the mirador: it's camera clicking time again. Up over the Ventorillo del Puerto and on to the town which stands at an altitude of 650 feet. Ojen is a very pretty village with plazas, gushing fountains, white-washed walls and some particularly characterful bars where dominoes and local chess tournaments reign forth at all times of the day and night.
Continue down the hill with the coast in sight for our Ojen to Marbella route.
Mijas to Alhaurin el Grande
↓
Alhaurin El Grande to Coin
↓
Coin to Monda
↓
Monda to Ojen
↓
Ojen to Marbella and on to Istan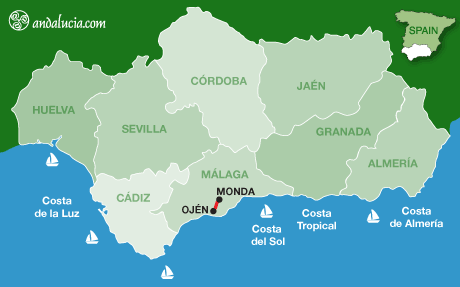 Hover the cursor to see bigger map.
More driving itinerary from the Costa del Sol
If you want a break from the clamour and crowds on the Costa then explore Mijas, Alhaurin, Coin, Monda, Ojen and also Istan. The scenery is quite spectacular and the roads are well-travelled, yet… More →
One-Day-Itinerary to explore the countryside around the towns of Ronda and Gaucin. This route starts at San Pedro de Alcantera, just past Puerto Banus, and ends up just a few kilometres down the… More →
CAR HIRE
Hiring a car is best way to tour Andalucia. Travel with ease, stop where you want and enjoy the beautiful views!. We have a page about every village including things to see. Consult our general Car Hire page for car hire tips and advice on rental groups, insurance excess, young drivers, DVLA code, fuel policy and security, plus links to a range of car hire companies. Check out our specific car hire pages in each of our airport and main train station pages. Malaga Airport Car hire, Gibraltar Airport Car Hire.