Seville to Huelva itinerary
70km - 1 hour
From Sevilla to Huelva the traveller can either take the A-49 motorway or the slower A-472 highway.
Neither route is particularly interesting. These are the low rolling hills of Southern Huelva province.
Whether trevelling from central Seville or coming from the Jerez in the south or Cordoba in the east you will navigete carefully the SE-30 ring road following signs for Huelva.
On leavingthe SE-30 the road winds first the the left and then to the right and climbs up from the Guadalquivir valley onto the plains southern of Huelva. You will pass the villages of Benacazon, Huevar de Aljarafe, Camion de Cespedes, Chucena. La PAlma del Contado is larger and so is the historic town of Niebla with its stone arched bridge over the red coloured waters of the Rio Tinto.
Both the A-49 Motorway and the A-472 highway pass the town San Juan del Puerto. If you are interested oin following the strep of Christopher Columbus from San Juan del Puerto take the A-494 to Moguer and Palos de la Frontera and La Rabida and the beaches of Moguer.
The motorwary forks soon for Huelva City or Portugal.
West to Portugal Itinerary
Malaga to San Pedro
San Pedro to Ronda
Ronda to Algodonales
Algodonales to Jerez de la Frontera
Jerez de la Frontera to Sevilla
Seville to Huelva
Huelva to Portugal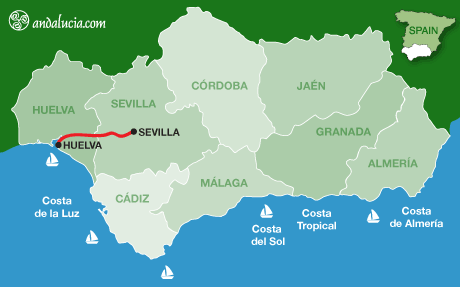 Hover the cursor to see bigger map.