Property finding tips in Andalucia
If your home is your castle, then you won't be the first to decide that Spain is the best place for it. In reality, whether you are building, buying, remodelling or decorating, Andalucia is a good place to create to find or make your home.
Choosing your best location when buying a home in Andalucia
Best to start by choosing between the coast or inland. Most people prefer the seaside, but keep in mind that there are some charming villages and less populated inland areas only 10 to 15 minutes driving from the coast. In addition, the deeper inland you venture, the greater your opportunities will be to integrate into Spanish society - an exciting adventure, you can be sure.
If you choose to live in a town or small village, you will still have the opportunity to meet and mix with your Spanish neighbours, and also to benefit from the local love of convenience with every imaginable service, including shops, churches and schools, local butchers, fish mongers and fresh bread within walking distance. Noise and lack of privacy are the two possible downsides here.
If the Andalusian countryside is calling you, you must carefully choose your lawyer before you buy in order to be sure regarding land zoning and building licenses, even if you are buying second hand. Don't listen to anyone who tells you that legal requirements are not important as the trend is towards increasing law enforcement.
Other considerations when choosing where to live in southern Spain include schools, telephone and internet and satellite television services, and proximity and quality of health centres and hospitals. If you will be commuting to schools and work, it is also a good idea to test drive possible routes during the time of day you will be using them - just to see the roads during certain peak traffic times.
Buy or Build?
Even if your dream is to build your own home in Andalucia, you should consider buying an existing home for your initial move. This will give you a chance to get to know the area, the culture and the laws better before you dive into a building project.
With the help of an experienced estate agent and your own independent lawyer, your purchase will be much smoother and far more secure than if you try to do this on your own. These professionals will also help you ensure that if you buy off plans, the developer is properly insured should the project fall through.
If you decide to build your own home, consider the services of a project manager - especially if your grasp of the language and culture are less than advanced.
Home Makeover Thanks to a thriving home improvement industry, Andalucia in general is fine for the "do-it-yourselfers" of this world. It is not difficult to find building supply outlets in even the smaller towns, and larger cities offer top super store outlets like Leroy Merlin, Akí, Bauhaus and more. If there is something very special that you would like to import from abroad, you need only visit the Costa del Sol to track down the supplier with the contacts you need.
If you hire a builder or construction crew for remodelling projects, be sure to get both a bona fide, signed "presupuesto" (estimate) before work begins and a proper "factura" (invoice) when work finished. Also, document and obtain new estimates plus signatures from both sides for all changes that occur during the project. This is the only way to ensure that your rights as a consumer are protected should anything go wrong. You need only visit your local consumer department at the town hall to hear the sad stories of those who neglect this advice.
For a wealth of ideas, check out our home improvement guide.
Southern Ambience
Everything you need to set the scene inside your home is available in Andalucia. Often the only challenge is figuring out where to look. Here are a few tips to start you off:
Paint - many local shops will custom mix your colours, but shop around to find the most pleasing palette to choose from. You can often buy a small paint sample.
Furniture - a thriving furniture manufacturing industry is located inland in such places as Lucena in Córdoba and also in Seville. While city and town centres will have a whole range of furniture and home decoration shops, it is worth checking out the nearest industrial estate and especially industrial estates around larger cities and along the Costa del Sol as you can often buy direct from manufacturers and importers. You will also find home decoration superstores such as Ikea, Bauhaus and Leroy Merlin in many regions.
Specialty and Far East Imports - if you don't find them in your provincial capital, the best place to check would be the Costa del Sol, particularly towns such as Estepona, Marbella and Mijas, which all have industrial estates where many of these businesses are located. Many of these companies offer "Furniture Packs" which is one of the most convenient ways to outfit your entire home.
Kitchens and Bathrooms - you will find smaller shops inside towns and cities but once again, don't be afraid to venture out to the large warehouses in the industrial areas.
Thanks to an active property sector, southern Spain is well prepared for those who come in search of their home in sun. Everything you need is right here waiting for you.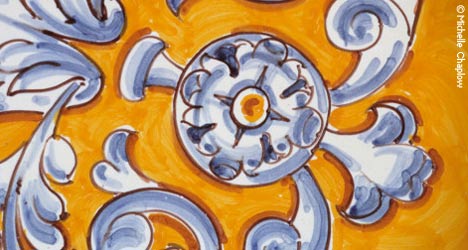 Its fun to add a Mediterranan touch to your very own Andalucian Paradise.