Alhendín
Alhendín is located in the heart of the Granada lowlands. Its location and vast landscapes make it a haven for culture and nature lovers. Prehistoric human remains have been discovered here, as well as pots and glasses. From the Roman period, a semi-artificial cave has been conserved in Montevives. The main attraction is from the Nasrid dynasty; remains of a fortress camouflaged between various other buildings.
When in Alhendín, visit the Iglesia Parroquial de la Inmaculada Concepción. This church was constructed by the Catholic Monarchs (Isabella and Ferdinand) after the reconquista and has a rich history. Various ermitas (chapels) are still in good condition, such as la Ermita de la Virgen de la Aurora, la Ermita de San Sebastián and la Ermita de Santo Cristo.
The Tarajal stream crosses through Alhendín, where there are many different landscapes to enjoy. Close to la Sierra de la Pera you can walk through a Mediterranean forest. In the brook of the river Dívar, which is also close to the village, you will find an arid landscape with crops growing in the dry land.
GASTRONOMY
Flour is the main product influencing the gastronomy of Alhendín. With it you can make traditional dishes such as ollas de garbanzos, (chickpea hotpot); gachas (oatmeal porridge) or migas (a dish made with breadcrumbs, garlic, olive oil and other ingredients).
FIESTAS
Various festivals and fiestas are celebrated in Alhendín, such as el Día de San Marcos. A day to "cascara el huevo" (crack the egg) it involves a very specific tradition; eat a hornazo (a bread roll with olive oil) containing an egg which you then crack over someones head!
The patron saint days in Alhendín are in August and involve a procession of an image of la Virgen de la Aurora. Every five years a grande fiesta is celebrated and there is a procession of la Inmaculada Concepción (the Immaculate Conception). Also celebrated is Corpus Cristi and el Día de San José.
Directions
Alhendín is 10km from Granada city. It can be reached directly, take the A-44.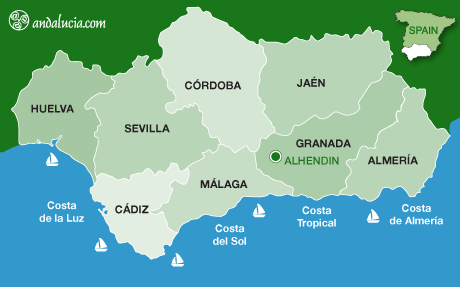 Destinations