Armilla
This town, located close to Granada City, played an important role in the numerous battles that took place here during the re-conquest of Andalucía by the Christians. The Armilla population is believed to date back to before the Roman occupation.
The village was a passageway for silk merchants on their way to the coast; unfortunately, knowledge of silk spinning was lost after the Christian militants ended the Muslim occupation.
In Armilla there is a monument with a legend of its own; las Tres cruces, (three crosses) with Christ in the centre. According to the village elders, Christ had his feet crossed and a single nail put through them. However, during the war, the position of Christ's legs changed to their current position: separated.
La Iglesia de San Miguel de Arcángel is also worth visiting. Originally built in the 16th century in a Moorish style, it was renovated in 1931 with a taller tower, added to allow the chiming of the bells to be heard further afield.
Armilla is a great place to go hiking. You might even spot a plane from the nearby Air Force base flying overhead.
GASTRONOMY
Traditional dishes from Armilla include la olla de San Antón, (a traditional stew); conejo a la labradora, (rabbit cooked with parsley and garlic); and perdices con coles, (partridge with cabbage).
FIESTAS
Every year, in the old sugar factory of Santa Juliana, la Feria General de Muestras is celebrated; emphasis during this fiesta is on traditional arts and crafts.
In January, Armilla celebrates one of its most important ferias, las hogueras de San Antón. On this day there is a competition for the biggest and longest burning bonfire. The patron saint fiestas take place in September.
DIRECTIONS
Armilla is 5km from Granada city. Take the A-44 (Direction Armilla) and leave at exit 132.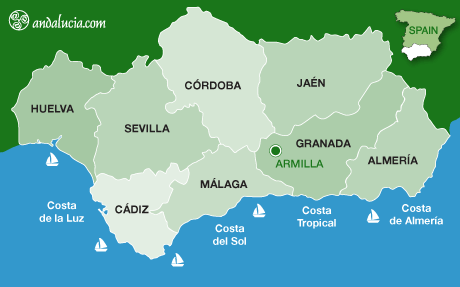 Destinations