Otura
The village of Otura is found at the limits of what is known as La Campana. This is the area where the sound of the bells from the Torre de la Vela in the Alhambra Palace can still be heard. Otura is located between the foothills of the Sierra Nevada and the plains of the vega lowlands. The landscape of Otura is practically flat, making it the perfect place for agriculture.
Otura village centre is the perfect mix of the rural and the urban. The most important building is the Iglesia Parroquial de la Virgen de la Aurora. This Moorish-style chapel was constructed in the 16th century.
Without a doubt, the main attraction of Otura is Suspiro del Moro. According to legend, the last Nazari monarch, Boabdil came here after his extradition. He couldn't contain his tears whilst contemplating the city where he was born and where he had ruled: Granada. The Catholic Monarchs had retaken the area and Boabdil could only abandon the city. This image has been frequently recorded and documented by artists in paintings and drawings across the following centuries.
GASTRONOMY
If you want to experience typical otureña cuisine, you should try embutidos (sausages) and other products made using Otura´s traditional slaughtering methods. Other traditional dishes are migas, (a dish made with breadcrumbs, garlic, olive oil and other ingredients); gachas, (oatmeal porridge); and ollas de garbanzos, (chickpea hotpot).
FIESTAS
The patron saint festivals in Otura take place in September, and are in honour of la Virgen de la Aurora. Celebrations for these festivals take place over three days. In addition night time celebrations and other cultural activities, there is a traditional procession through the village.
DIRECTIONS
Otura is 12km from Granada city. Take the A-44 (Direction Armilla-Motril), leave at exit 139 to join with the GR-NO-5 which takes you directly to the centre of Otura.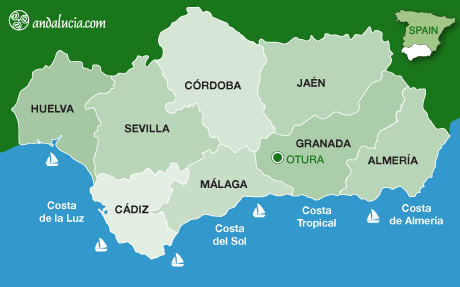 Destinations