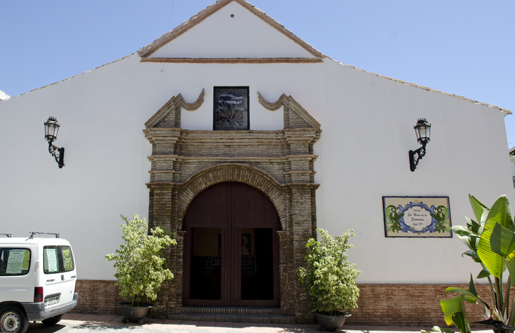 The village Benamargosa in La Axarquia. © Sophie Carefull.
Benamargosa
The village of Benamargosa, which is in the midst of a sea of citrus and other tropical fruit trees especially Avocado. The river Benamorgosa gives this land its lush propensity to let these abundant orchards flourish. The bridge over the river is the reason why this village has grown here.  As with other localities of this region of Málaga, its urban appearance reveals its Arab origin in this characteristic layout of narrow and sloping streets.
Things to See

The Church of Our Lady of the Incarnation, built at the end of the 16th century on an old mosque. Other interesting buildings are the Chapel of the Cemetery, from the middle of the 19th century; The Arc de la Huerta del Molino and the Bridge of Ten Eyes.
Things to do
La Vaqueria is the home of decorative arts and crafts by artist Su Derrick. The studio which is open to visitors is located as the name suggests in the old dairy. There is a small art shop and La Vaqueria is also a venue for art classes and assorted gatherings. Take the Arroyo Limon Street from the centre of the village up as far as you can driving. Look out for the blue wall on the right hand side.  
Gastronomy
The most traditional gastronomy of the Benamargoseños is very similar to that of the neighboring municipalities, with dishes such as tomato soup, white garlic, gazpachuelo or gazpacho. However, since Benamargosa became the leading producer of avocado in the area, this tropical fruit has also become one of the typical elements of its cookbook, with the "Baty Cate", avocado milkshake, as the most symbolic dish. For desert the sweet and smooth flavor, it is made with milled avocado, cinnamon, sugar and milk.
Festivals

San Sebastian
In Benamargosa, the most important day is January 20, the feast of San Sebastián, patron saint of the municipality. In the afternoon, the saint is taken out in procession and fireworks are set off.
Benamargosa Feria
The first weekend of August, when the Benamargosa Feria is celebrated.
Festival del Campo
The Feast of the Field takes place in April and its objective is to promote inland tourism. In addition to musical performances, among which the classic pandas de Verdiales stand out, exhibitions and sales of typical products are also carried out, such as handicraft articles made with esparto grass and those of traditional and artistic forging.
Location

The municipality of Benamargosa is located 11 kilometers from Vélez-Málaga and 47 from the city of Málaga.
Destinations