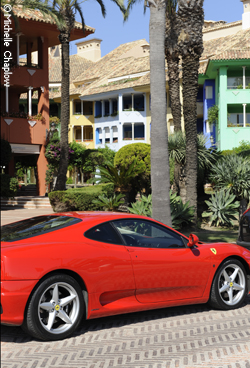 Luxury Sotogrande lifestyle
SOTOGRANDE - Getting there
Just west of the Costa del Sol in Cadiz provinceand a district of San Roque municipality,
Airports

Sotogrande is about one and half hours drive from Málaga Airport, on the AP-7,  and one and half hours from Jerez Airport and 45 minutes from Gibraltar airport. 
Access SotogAnde MARINA

There are three access points to Sotogrande Costa/ Baja (sea side) from the main A-7 coast road.
Leave AP-7 exit km 133, close to Torreguadiaro village of the N-340 on Avenida Mar del Sur and leads into Sotogrande Marina.
 
ACCESS SOTOGRANDE COSTA
Opposite  to Pueblo Nuevo village (A-7 exit km 130) and take service road to km 131 where a roundabout leads into Avenida de Paniagua near Centro Comercial Paniaqua.
West of Pueblo Nuevo village (also A-7 exit 130) but take service road to km 129 where an acces by the overbridge also leads into Avenida de Paniagua at the residential area.
ACCESS TO SOTOGRANDE
 
There are two access points to Sotogrande Alta (mountain side) from the main A-7 coast road. Both are ffrom ( A-7 exit km 130).

One for Almenara Golf Hotel and Sotogrande School and La Reserva  is by taking the A-2100 country road (Carretera de Arrenillas) and entering the eatate in one of the acces point.

The other (for Valderrama Golf Course)  is by taking the service road westwards to km 129,  crossing the over bridge to enter the residential area along Avenida de los Cortijos. 

There are barriers and security points at all entrances. It is only necessary to stop momentarilly so your car numberplate can be photogrpahed, wave in a friendly manner and the barrier will be raised. 
Bus
Having a car is essential for Sotogrande.
Sotogrande is on the Estepona to La Linea (for Gibraltar) M130 bus route. Consult bus timetables on our La Linea and Estepona bus station pages.  Estepona to La Linea takes one and a half hours. Sotogrande is about one hour after Estepona or half and one hour after La Linea departure times. The bus stops are in village of Pueblo Nuevo and estate entrance at A-7 km 129 by the Calle Avenida de Paniagua. 

From Estepona you can take a bus to Marbella, Malaga Airport, Malaga City and via the main Malaga Bus Station and the other main destination on the Costa del Sol.  From La Linea you can walk accross the border to Gibraltar Airport.
Car Hire

Hire a car is the best way to get around! Travel with ease and enjoy the beautiful views along the Costa del Sol if travelling from Malaga Airport. Consult our general Car Hire page for the best deals within Andalucia. Brunos Car has an office in Puerto Duquesa.
Taxi Rank in Guadiaro
Tel: 956 614 383
Destinations