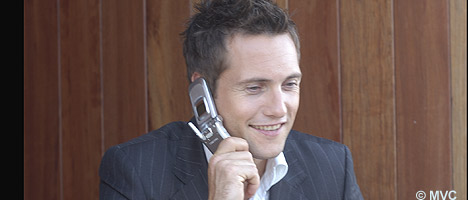 Mobile Contract & Non Contract
By Dee McMath
While  roaming can be useful for short trips, it is an expensive way of receiving and making calls in the long term. If you are going to be a regular visitor, you may want to buy a SIM card or even a Spanish mobile phone. 
Spain has one of the lowest number of land line telephones per capita in Europe, it makes up for it when it comes to mobile phone ownership.  If you shop around, you can get a contract phone for as little as 9 euros on a monthly minimum contract as low as 6 euros. Offers like these are obviously based on the fact that you commit to sign up for a minimum period of 18 months. If you need a new generation mobile, you can expect to pay much more, depending on what you are looking for.
Contract or Pre-paid?
If you are resident in Spain and have an NIE (Foreign Residency Identification Number) then you can buy a phone with a contract (contrato), which offers cheaper call rates, equalling an average saving of 30%, compared to pre-paid. The contract bill is paid monthly through your Spanish bank account by Direct Debit. If you are non-resident in Spain and have no NIE number, ask if your passport number and Spanish bank account details will suffice.
The alternative is to buy a phone with a pre-paid card (tarjeta). To top up credit (recargar) on the tarjeta you can go to one of the many mobile phone stores if you are in a major town or city. Also many shops, supermarkets, newsagents and tobacconists (estancos) offer this service. If you go well off the beaten track its best to make sure you have topped up your credit. 
Coverage
The coverage on your mobile phone in Andalucia will be good in main towns and along most of the Costa del Sol area. However, if travelling inland in much less populated areas, there may be times when you are out of contact.
If you are thinking of buying a house in the country, check the coverage in that area with your home country mobile before investing in Spanish SIM card or signing up for a mobile contract. By selecting 'network' manually, your mobile phone will automatically come up with the main providers, Movistar, Vodafone and Orange. Simply click individually on each one and check out the level of coverage from where you are. 
Where to Buy a Mobile Phone
When buying your Spanish mobile, the three main providers are Movistar, Vodafone, and Orange. General phone shops will no doubt bombard you with current offers which change so often that it's hard to keep track. Which one you go for will depend where, when, and how often you use the phone. There are many dedicated provider shops.
If you would rather compare the deals, then its best to go to a large independent electronics retails outlet in a town or a shopping mall. Carrefour stores also carry a good selection of mobile phones in their electrical departments. The Phone House also has over 160 shops in Andalucia and runs interesting offers on many makes and packages. The large department store, El Corte Inglés usually has a good selection of phones, with interesting offers, both contract and pre-paid. Large, reputable stores are also more likely to be helpful if you are unlucky enough to purchase a phone which later proves to be faulty.
Spanish Telephone Operators
Movistar
Movistar was Telefónica, like the equivalent of BT in the UK the original state monopoly operator. Moviline, a sister company pioneered the mobile phone market in Spain from 1990 until its closure in 2004. It was Moviline that provided the first car phones and mobile phones in Spain. Nowadays, Movistar dominates the Spanish market covering around 65% and offers reasonable call rates compared to its two competitors below. It has the largest number of users and the best coverage in the whole of Spain. Contact from a Movistar line free on 609.
Vodafone
Competitors of Movistar, in 2002 Vodafone bought out Airtel, which had been operating in Spain for over 10 years. It is worth shopping around for a good offer when buying a phone. Service between Spain and UK is good with Vodafone being a UK based company. For more information call: 607 123 000
Orange
This is the newest of the three main mobile network providers in Spain, having been in existence since the late '90's. It is a strong competitor in the market. Orange often has very cheap phones on offer and low call rates, sometimes as low as 3 cents per minute. The down side with Orange can be the poor coverage, especially in more rural or remote areas. For more information call: 656 001 470
MasMobil   
MasMovil is the relative newcomber to the Spanish telecoms industry, founded in 2006 by Meinrad Spenger. It grew in the mid 2010s by the adquisition of several smaller companies Neo, Quantum Telecom, Xtra Telecom, Embou y YouMobile.  It purchased Yoigo in 2016. In 2020 it grew to a 15% market share including its three affiliate companies Yoigo (which sells MásMóvil, LlamaYA, Lebara España y Hits Mobile), Pepephone and Lycamobile España.. 
Jazztel
Independent phone company founded in 1998s by Martin Varsavsky who was a fan of Jazz music. The Spanish company was owned by a UK company Jazztel plc which was in turn listed on the Madrid stock exchange. In 2014 it was purchased by Orange for 3.4b€. In 2016 the company was absorbed into Orange and now exists as a commercial  brand of Orange. Jazztel offers Telephone, Internet and Television services.  
There are over a hundred other operators in Spain who resell the networks of the above companies.  They are classified as MNVO (Mobile Virtual Network Operator). The larger ones are  Tuenti, Lowi, Amena, and Simyo.