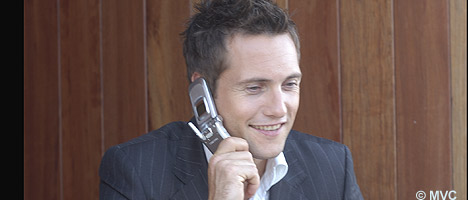 Mobile Contract & Non Contract
By Dee McMath
When you first come to Andalucia, you will need a contact number to be easily located. Since Spain operates on a GSM network, your UK mobile phone will probably work in Andalucia. If you are travelling from North America or some parts of Asia, then it is likely that you will have a CDMA phone, which will not work. Coming from the UK, you will need to check with your provider to find out if your phone is 'locked'. To activate roaming you must contact your provider at least a week before you leave Britain to activate the service. If you arrive in Spain and discover your phone is locked, then you will not be able to activate roaming once you are out of the country of origin.

While roaming can be useful for short trips, it is an expensive way of receiving and making calls in the long term. If you are going to live in Andalucia or are a regular visitor, you may want to buy a SIM card or even a Spanish mobile phone. Remember when taking your UK phone abroad to pack the charger and a continental plug adaptor so that you can plug it in while in Spain.
While its true that Spain has one of the lowest number of land line telephones per capita in Europe, it makes up for it when it comes to mobile phone ownership. Initially the high price of mobile phones restricted interest to a privileged few. The price of new phones used to range from around 3,500 euros (or over £2,000). If you shop around nowadays, you can get a contract phone for as little as 9 euros on a monthly minimum contract as low as 6 euros. Offers like these are obviously based on the fact that you commit to sign up for a minimum period of 18 months. If you need a new generation mobile, you can expect to pay much more, depending on what you are looking for.
Contract or Pre-paid?
If you are resident in Spain and have an NIE (Foreign Residency Identification Number) then you can buy a phone with a contract (contrato), which offers cheaper call rates, equalling an average saving of 30%, compared to pre-paid. The contract bill is paid monthly through your Spanish bank account by Direct Debit. If you are non-resident in Spain and have no NIE number, ask if your passport number and Spanish bank account details will suffice.
The alternative is to buy a phone with a pre-paid card (tarjeta). To top up credit (recargar) on the tarjeta you can go to one of the many mobile phone stores if you are in a major town or city. Also many shops, supermarkets, newsagents and tobacconists (estancos) offer this service. If you go well off the beaten track into the Andalucian hinterland, its best to make sure you have topped up your credit, as it will be more difficult and sometimes impossible to find an outlet that offers top-ups.
Coverage – a Tip for Potential Rural Property Owners
The coverage on your mobile phone in Andalucia will usually be fairly good in main towns and along most of the Costa del Sol area. However, if you are property hunting or otherwise travelling inland in much less populated areas, there may be times when you are out of contact. If you are thinking of buying a house in the country, check the coverage in that area with your UK mobile before investing in Spanish SIM card or signing up for a mobile contract. By selecting 'network' manually, your mobile phone will automatically come up with the main providers, Movistar, Vodafone and Orange. Simply click individually on each one and check out the level of coverage from where you are. Generally speaking, Movistar has the best coverage in Andalucia and overall in Spain.

Where to Buy a Mobile Phone
When buying your Spanish mobile, the three main providers are Movistar, Vodafone, and Orange. General phone shops will no doubt bombard you with current offers which change so often that it's hard to keep track. Which one you go for will depend where, when, and how often you use the phone. There are many dedicated provider shops.
If you would rather compare the deals, then its best to go to a large independent electronics retails outlet in a town or a shopping mall. Carrefour stores also carry a good selection of mobile phones in their electrical departments. The Phone House also has over 160 shops in Andalucia and runs interesting offers on many makes and packages. The large department store, El Corte Ingles usually has a good selection of phones, with interesting offers, both contract and pre-paid. Large, reputable stores are also more likely to be helpful if you are unlucky enough to purchase a phone which later proves to be faulty.
If you are in the Fuengirola area, take a look in the well-established and highly regarded phone shop 'Tele 1' on Avenida Jesus Santos Rein, near the fair ground where the weekly Tuesday market is held. The shop has 13 years experience in the technology of phones and the very friendly staff will be able to talk you through the maze of offers and prices in English (or Spanish, German or Swedish). They have a wide range of contract and pay-as-you-go phones with latest models, as well as a good stock of third generation phones and accessories. They can even help you with connection of Spanish landline phone, by filling in all the Spanish Telefónica forms for you and explaining to you how the system works. Call 'Tele 1' for more information on: Tel/Fax: + (34) 952464617.
Spanish Line Providers
Telefónica Movistar: Telefónica is like the equivalent of BT in the UK. Moviline, a sister company pioneered the mobile phone market in Spain from 1990 until its closure in 2004. It was Moviline that provided the first car phones and mobile phones in Spain. Nowadays, Movistar dominates the Spanish market covering around 65% and offers reasonable call rates compared to its two competitors below. It has the largest number of users and the best coverage in the whole of Spain. Telefónica also has agreements with several international providers, giving better access when travelling. Contact from a Movistar line free on 609.
Vodafone: Competitors of Movistar, in 2002 Vodafone bought out Airtel, which had been operating in Spain for over 10 years. It is worth shopping around for a good offer when buying a phone. Service between Spain and UK is good with Vodafone being a UK based company. For more information call: 607 123 000
Orange: This is the newest of the three main mobile network providers in Spain, having been in existence since the late '90's. It is a strong competitor in the market. Orange often has very cheap phones on offer and low call rates, sometimes as low as 3 cents per minute. The down side with Orange can be the poor coverage, especially in more rural or remote areas. For more information call: 656 001 470