Top 10 Car Rental Tips
by Fiona Flores Watson
Renting a car is a great way to see Andalucia, from the beaches to cities to mountains, but you need to be careful about your contract. Here are top 10 car rental tips.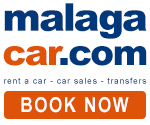 Professional car hire services at Malaga airport. All-inclusive prices, book your car online and pay on arrival - without cancellation fees!
1)      BE WELL-DOCUMENTED
Even if you have a Spanish driving licence, you still need to show your passport at the rental desk. British drivers visiting Spain can use their British driving licence during the Brexit transition period (until 31 December) afterwards they will need to use an International Driving Permit.
2)      BE AWARE OF THE FUEL POLICY
Each car rental company, and indeed each car rental contract, is different in terms of their fuel policy. The most normal plans are:
Full to full - the most convenient, especially if you're arriving at night - you start off with a full tank, though you may be charged a high rate. You return it the same, so ensure you know where the nearest fuel station is to top up before you drop it off). Keep the receipt to show them when you return the car.
Full to empty - as above; make sure you calculate carefully so that you don't leave any, as they may not refund you
Empty to empty - you'll need to fill up the car as soon as you get it (they will tell you the nearest station) and make sure there's none left when you return it. Probably more economical but more hassle.
Fair fuel policy - this means that you can choose how to return the car; either with an almost-empty tank, or with a full tank, for which you'll be refunded
If you're booking in advance, take time to check this carefully on your rental agreement.
3)      GO OUTSIDE THE AIRPORT
Usually, the cheapest options are not in the arrivals hall of the airport terminal, where the main companies such as Hertz and Avis can be found, but in smaller offices nearby. They're reached by shuttle bus.
While the location is slightly inconvenient, often in an industrial estate or other out-of-the-way location, they are often considerably more economical. In the case of Malaga, almost as convenient as long as you don't have lots of luggage, as there'll be easier to drive away from,  or return to  than the at the major companies' deep in the multi storey car park. 
4)      CHECK THE MILEAGE
Some contracts will include unlimited mileage (kilometrage), while others will have a daily limit. Read your contract carefully to check this so you're not caught out - if you go over the limit, you'll be charged per extra km.
5)      ADD SOME EXTRAS
Would you like someone else to share the driving? This is definitely preferable if you're going a long way. Again, having a second driver on your rental agreement varies - sometimes it's free, other times there's a daily fee. Other extras like child seats and GPS are also charged daily - remember that if you use your mobile phone to navigate, you will consume a lot of data.
Exploring Andalucia by car is a great way to enjoy the region.
6)      BE LOYAL
Having a loyalty card such as Avis Prefered will save you time and hassle - usually, since you have an ongoing contract on file, you can avoid the queues, just pick up the key and the car, show your driving lisence, and you are away. 
7)      GET PHOTO EVIDENCE
Ensure that you check the car is free from scratches (especially if you don't have excess protection ) - check the specific conditions with your rental company, but usually anything over 4cm counts as damage. So if there are any scratches or dents on the car when you collect it, be sure to mark them on the rental contract form, and take photos too. This is especially important at night when you may not be able to see the car well. Reputable companies accept minor damage photos taken in the light the following morning. 
8)      CHECK THE INSIDE TOO
Your car should have a clean interior - rubbish-free, not malodorous, and without any stains on the seats. If it isn't, tell them and ask for another car.
9)      CONFIRM WHICH GROUP YOU'RE IN
When you reserve your hire car, it will be in a group (A, B, C etc, also called mini, economy, compact etc), decided by various criteria including number of doors and luggage capacity. You aren't booking a specific model, just a type. If you're not happy with the car offered at the rental desk, ask for another in the same group. If you're lucky (or if none are available in your group), you might get a free upgrade to a larger car. Double-check there are no extra charges.
10)  LEAVE THE COUNTRY
There is more than enough to see in Andalucia, but if you do want to take your car into a neighbouring country or territory, such as Portugal or Gibraltar, then you should ask if any extra insurance or documentation is needed.
More Info
Consult our Driving and Motoring pages in the travel section for a guide to driving in Andalucía, plus our suggested Driving Itineraries.   Consult Cars and Motoring in our Living in Andalucía section which is more focused on buying, taxing and maintaining a car in Andalucia.