10 great reasons to hire a car in Andalucia
by Fiona Flores Watson
When you are visiting a region as varied as Andalucia, it is well worth renting a car - if not for your whole stay, especially if you're starting or finishing in a city, then at least for part of it.
The flexibility of where you can go, and when, makes discovering all the beautiful scenery and hidden villages of Andalucia into your own adventure, taken at your own pace.
You can take a rest stop by the roadside to admire the stunning views, for example on the spectacular winding mountain road from Estepona to Ronda - down rolling green valleys to the distant sea.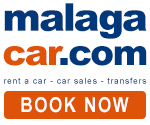 Professional car hire services at Malaga airport. All-inclusive prices, book your car online and pay on arrival - without cancellation fees!
Here are our top reasons for renting a car in Andalucia
1)    You can drive to the pueblos blancos (white villages) of Cadiz province, such as Arcos de la Frontera, Medina Sidonia, Vejer de la Frontera, and Zahara de la Sierra. There are a number of these hilltop towns, with a distinctly Moorish feel (often they were located on the frontera, or border, between Christian and Arab territory), so with a car you can choose which to visit.
2)   Often there's a good, fast road for getting from A to B quickly and easily - for example the A382 from Jerez to Los Barrios, to reach Gibraltar and the Costa del Sol. But take the smaller backroads, in this case via places like Medina Sidonia or Vejer, and you will meander unhurriedly through unspoiled villages, past ruined towers and castles, getting an up-close view of rural Andalucian life where people still drive oxcarts and ride donkeys.
3)    In spring, you can pass by meadows which are carpeted in wildflowers - shades of cerulean blue and sunny yellow. Stop your hire car and take photographs. The road down to the coastal town of Bolonia, on the Cadiz Costa de la Luz, is spectacular, as are the hills of the Alpujarra mountains in Granada province.
4)    Andalucia has over 1000km of coastline - so imagine how many beaches there are! Smaller calas (coves), such as those near Nerja on the eastern Costa del Sol, and Conil, on the Cadiz Costa de la Luz, are best reached by car - and even then, you sometimes have to scramble down a path to get to the more isolated ones.
5)    With all the wild scenery in Andalucia, it's the perfect place for picnics in beautiful, off-the-beaten-track locations. These are especially well-suited to families, so the kids can run wild and make all the noise they want. You will often find picnic areas in parks and near roadsides, complete with tables and benches, sometimes barbeques, and rubbish bins. Tip: if you want to buy fresh bread for sandwiches on a Sunday, when the shops are closed, many garages sell baguettes.
6)     While driving in cities can be complicated, if Granada is on your itinerary, you'll be pleased to hear that then Alhambra has a huge car park - so you can leave your rental car there while you visit the Moorish palace.
7)    If you prefer to sit down to eat at a roadside venta - whether at a table. or at the bar, you will find lots of local specialities. For a lighter meal, montaditos (small grilled sandwiches) are a good option, especially for children. Vegetarians should be aware that ventas usually serve traditional dishes, and tend towards meat, so non-carnivorous options, and even fish for pescatarians, may be limited.
8)    For those who want to explore out-of-the-way towns and villages, bus services may be limited to one or two per day, which means that your travel options would have to fit around the timetable. Plus the bus journey would probably be indirect, taking in many other stops - which is great if you don't mind taking the scenic route, but frustrating if you're pushed for time. With a rental car, however, you can set your own schedule, whether direct or less so.
9)    When visiting national parks, be aware that in order to drive off-road, you need a special permit.
10)    With so many sunny days in Andalucia, why not hire a convertible? Enjoy the wind in your hair on a warm day, and enjoy the Andalucian countryside in the fresh air.
More Info
Consult our Driving and Motoring pages in the travel section for a guide to driving in Andalucía, plus our suggested Driving Itineraries.   Consult Cars and Motoring in our Living in Andalucía section which is more focused on buying, taxing and maintaining a car in Andalucia.