Backpacking to Cadiz
by Lee Gutcher
Cadiz does not have a big draw card to pull in the crowds unlike the other major cities of Andalucia. It is worth spending a day there if you can. 
Cadiz is an historic port and one of the oldest cities in Europe. Although it is not a large tourist resort it is surprisingly open and friendly, especially for a port. Cadiz was the location of the drawing of a liberal constitution in 1812. The city has kept this left wing tradition and was strongly opposed to General Franco. The Carnival in February is one of the biggest in Andalucia, and certainly the most infamous, with riotous partying. Cadiz is also famous for its sea food with fried fish being a speciality.
Finding your way around Cadiz is not a problem. The natural bay is very compact and it is difficult to get lost as you are never more than 2 streets away from being able to see the sea. However the helpful Tourist Office have painted a pink line around the city. Follow this line around the city to see all the major sights.
See the Cadiz Home page
Accommodation
Accommodation is plentiful. Cadiz has an excellent youth hostel which even when full the friendly proprietor will point you in the direction of an alternative.
There are no must see monuments in Cadiz, just a handful of curious places worth a look.
Archaeology and Fine Arts Museum
Oratorio de Santa Cruz
Cathedral Nueva
Oratori de San Feligo Neri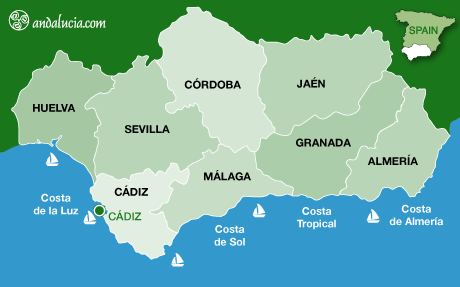 Hover the cursor over Cadiz to see bigger map and click to go to the maps page.