Itineraries - Granada to Motril
70 km - 1 hour
An interesting drive from Granada down to the Coast at Motril. It is now motorway most of the way and takes about one hour.
Leave Granada heading south on the A-902 western ring road. Just to the south of the city at km 132 is the turning for the A-395 spur motorway towards the Alhambra and the Sierra Nevada ski resort.
The A-44 crosses the plane passing the villages of Ogijares, La Zubia, Alhendin and Otura. These have now become the southern suburbs of Granada  On the left is the Armilla air force base. The motorway begins to climb.
If you have time, leave the motorway at km130 and follow the old paralel N-323a road which climbs climbs up through the pass at 860m called "Puerto del Suspiro del Moro". (The Moors sigh pass). Legend says in 1492 the retreating Moorish King Bobadil took his last look back at the city of Granada here and sighed. At the junction of the A-4050 country road to Almuñecar you may wish to stop next to the now sadly closed typically Andalucia roadside 'services' that lost its trade with the opening of the motorway. No longer do curious travellers ask for the key at the bar to take a photo from the observation tower. Travelers not in a hurry can turn right here and take the slow road down to Motril and Almuñecar passing numerous pretty white villages on the way. Otherwise join the N-322a passed the sureally named enormous Desgauce Suspiro del Moro and continue south.    
40km from Granada look out for the village of Beznar and the reservoir on your right. Here you turn left on the C333 for Lanjaron and the gateway to the Alpujarras. These south facing slopes of the Sierra Nevadas are peppered with villages that were the last stronghold of the moors in mainland Spain. They have their own charm, architecture and culture. Trevelez is the highest village in Europe. The Alpujarras are often said to be Spain's best kept secret.
Continue to decend to the coast. The River Guadalfeo valley becomes a steep sided ravine. It is an interesting drive. Look out for the gigantic "Presa de Rules" (Rules Dam)
At the bottom the valley suddenly opens out into the fertile coastal plane.
Motril is a large town. On the coast is its busy port, exporting products from the coast and Granada.
At the N340 coast road turn left for Motril to Almeria and turn right for Motril to Malaga.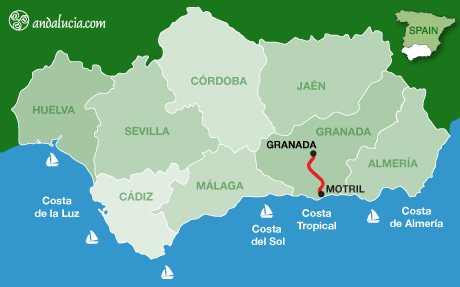 Hover the cursor to see bigger map.
Destinations