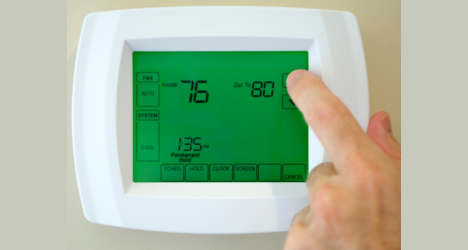 Keep you heating consumption down, you save and so does the environment
Heating
"Nine months of winter, three months of hell." This common proverb rhymes in Spanish to describe the country's hotter areas - such as Andalusia. And understandably, those three months of hell are a local obsession: the vast majority of homes in this area are built to keep out heat with little regard for winter's chill. But, fortunately the options are growing for those seeking comfort during the "nine months of winter".
Built-in Systems
If you can choose a heating system during the construction of your Andalusian home you have two main options: under-floor heating and centrally networked radiator systems. These can also be installed in a completed home, but only at much greater expense and inconvenience.
With the ever increasing costs of traditional energy sources to power your central heating system, alternative renewable energy sources such as geothermal, solar and biomass are becoming increasingly popular. These provide simple, cheap, environment friendly technologies to heat your house, water and if necessary your pool.
The most common renewable energies are :

Solar Panels – Using the sun's energy through increasingly more
efficient solar panels located on your roof or land. The
Andalucian climate allows the maximum use of such systems.

Photo Voltaic Panels – Non residential buildings such as shopping centres and hospitals must have photovoltaic panels, which produce electricity directly and are more expensive than solar panels, which simply heat water.

Geothermal – The heat and energy a short distance
underground can be gathered using circuits buried on your
land. This technology has been used in northern European
countries for more than 10 years to provide heating in
winter and cooling in summer.

Biomass – The latest automatic pellet systems can power a
central heating system, have hoppers to provide an
automatic feed mechanism and can be programmed to switch
on when required.

Stand-alone Systems
Because built-in heating systems are so uncommon in this part of Spain, the market for stand-alone units has flourished. These come in a wide variety of electric heaters, including energy efficient versions that heat water or oil, and there are also alternatives to electricity.
Butane
One of the most popular alternatives to electric stand-alone heaters in Andalucia are fuelled by butane. These heaters tend to be large and boxy - in order to house butane bottles. In addition to the space they occupy, their main detraction is the amount of humidity they produce as they burn gas. But in spite of the discomfort this causes some, many still invest in this extremely economical option. Butane units can be purchased in home improvement stores, but a contract must be arranged with the gas company in order to obtain fuel.
Oil Radiators
Low-consumption oil radiators that are powered by electricity provide a quality alternative to either of the above stand-alone systems. Oil heaters are fuelled by electricity, but use far less than standard electric units. The best of these heaters comes with two or three power levels accompanied by a thermostat with about 10 settings. Some also include a fan system to better distribute the heat.
Heat Pumps
One of the most ideal heat sources in this mild climate is a heat pump, which siphons heat from the air and puts it into your home. These are powered by electricity but use only about 1/3 the power required by a traditional electric heater. A heat pump will require a higher initial investment than an oil radiator, for example, but will pay off in the long run.
Panel Heaters
One of the main disadvantages of stand-alone heaters is the difficulty in finding a way to incorporate units into the design and decor of each room in your home. Panel heaters provide an excellent solution to this problem. Most electric heaters – including oil radiators – can be obtained in the form of panel heating which mounts neatly on the wall. This is possibly the most discrete way to incorporate stand-alone systems into a home without central heating.