Yoga
by Dee McMath
 
Yoga originated in India some 5,000 years ago. Major benefits of regular Yoga practice include maintaining a supple, healthy body and an increased feeling of physical, mental and emotional wellbeing. It involves a personal journey of meditation and self understanding.
Developed by Yogis all these many years ago as a reaction to India's ancient religious rituals, the aim was to use Yoga as a vehicle to reach spiritual awareness and true happiness. The physical stretching and relaxing of the muscles, together with the concentrated breathing exercises clears channels in the body to promote a healthy, mind body and spirit. Through yoga you not only feel liberated, less stressed and physically supple, but you also get in touch with who you really are. The slow, deliberate moves make you physically and mentally aware of your body, emotions and moods.
The word 'Yoga' comes from the Sanskrit meaning 'union' which tells us that yoga is considered to be an exercise for the mind as well as the body. There are numerous types and levels of Yoga classes available in Andalusia, with many well-established centres and teachers. Thousands of British people have settled in Andalusia, the majority on the Costa del Sol area and so many yoga centres are run by British or English speaking Yoga practitioners. Many Scandinavian and German yoga specialists also offer classes and courses along the coast. Inland Andalusia also has a lot to offer in the way of Yoga retreats or holidays, for those who want to relax and chill out.
Yoga is life enhancing in ways you may not have realised. Of the many benefits are included: a flexible, well-toned body, improved sleep patterns, increased energy, better posture, ability to deal with stress, regulated blood pressure, increased intake of oxygen, increased stamina, more effective digestion process, improved ability to relax, improved memory, stronger immune system, etc.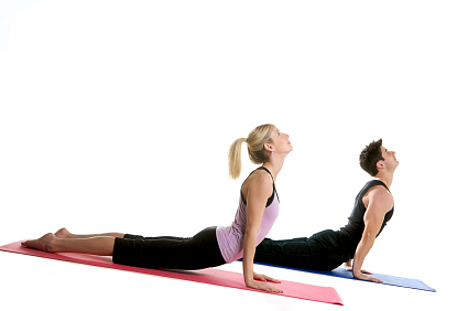 There are as many as 40 different types of yoga, but perhaps the best-known ones are Hatha and Astanga*. (*For more information on Astanga and Power Yoga (which is the modern adaptation of this ancient form) see Power Yoga). Hatha yoga is perhaps more suitable for the beginner. Ask your yoga teacher for advice.
The free alternative magazine, 'Chispa' which is bilingual (Spanish and English) is published and distributed at various outlets all along the coast and is a rich source of information and advertising on Yoga classes, courses and teachers. In main cities and even in some smaller inland towns and villages, the Town Hall (Ayuntamiento) may have a Cultural department (Casa de Cultura) where a notice board or leaflets on Yoga classes are often available. Around Granada and especially the Alpujarra Mountain area is also a great place to find a Yoga course or a two-week yoga holiday, all the year round.
Yoga can be practiced by most people of almost any age. In fact, recently 'Baby Yoga' has received a lot of press and mothers take their babies along to the baby Yoga class, which is said to help with the baby's sleep patterns and general wellbeing. Yoga for babies should only ever be practiced under the supervision of a fully qualified and experienced Yoga teacher.
Pregnant women have found Yoga classes beneficial during pregnancy for many years and many say that the exercises stand them in good stead later during labour.
So from pregnant women and small babies, right through to much older people, Yoga can improve general health. It reduces stress while making your body stronger and more flexible. Andalusia, whether on the beach or inland in the mountains, is a perfect place to practice your Yoga moves. Some classes are held on the beach or outside in the Granada Mountains, both in the summer and winter months. The beautiful time of sunrise and sunset provide a stunning backdrop to this ancient and life restoring art.
Here is a description of five Marbella Yoga Studios picked by BRIGHT. Read more on BRIGHT news>