Meditation
by Dee McMath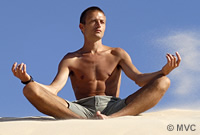 Meditation, connect with your higher
self in Andalucia
Meditation is a relaxing form of reflection or contemplation, which has endless benefits for our general health and well being, both physical and mental.
In the last 20 or 30 years, some areas of Andalucia have joined many other parts of Europe in the race to be stressed. Main towns have grown into bustling cities and some roads have endless traffic queues. In the meantime, the resident population of Andalucia, both Spanish and foreign, have become more aware of the benefits of relaxation and meditation and so numerous meditation centres have sprung up.
Meditation centres are found along the now highly populated English-speaking Costa del Sol, especially in major towns such as Marbella, Fuengirola and Torremolinos. Many inland areas are also becoming known for their holistic and meditation courses. The province of Granada has become increasingly well known and is particularly popular amongst British people seeking special holidays, which include meditation and other relaxation courses. You may have seen some of these holidays advertised in the UK press - especially in the holiday sections of the Sunday papers.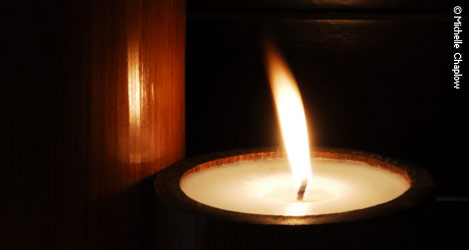 Relax your mind and body through meditation.
It's ironic that we consider practices such as meditation to be 'New Age' since it has been around for many thousands of years. Originally associated with religions including Judaism, Christianity, Buddhism and Hinduism, it is now seen to be a useful form of dealing with every day problems. Back in the 1960's Transcendental Mediation was brought to west when the Beatles became involved with the Maharishi Mahesh Yogi.
Meditation has always been recognised as a positive force for the human mind and body. It has been shown in many studies over the past decades that people who practice regular deep meditation, tend to show fewer signs of aging and often look and feel between five and ten years younger than they their years would suggest. Nevertheless, in today's hectic lifestyle, few people take the time to meditate for a few minutes every day. A meditation could last 5 minutes or maybe 20 minutes. Training the mind to relax can be likened to going to the gym. Build up your relaxation muscle gradually as you would if you were weight training in the gym. Like physical exercise, you will get best results from regular practice.
Physical benefits of meditation include lower blood pressure, even breathing (even at times of stress), a stronger ability to cope in stressful situations and lower adrenaline levels. Some conditions that can be improved by regular meditation practice are: high blood pressure, headaches, depression, insomnia, some types of chronic pain and anxiety.
There are many books and tapes on mediation, as well as finding out more from a meditation teacher. Tapes and CD's are an excellent starting point and where better to relax and meditate that on a beautiful Mediterranean sandy beach or in the quiet of the inland hills of Andalucia? This is surely the perfect backdrop for quiet contemplation. You may well enjoy the benefits and feel you would like to know more or join a group. As well as looking in the local Health Shop (Herboristería) where you will usually find a notice board or leaflets on Meditation and other therapies in the area, try the Town Hall (Ayuntamiento) too. Ayuntamientos in the in the larger towns of Andalucia will have a Cultural Department 'Casa de Cultura'. This may either be a separate building or could be inside the Town Hall itself. The 'Casa de Cultura' is also likely to have a notice board and you will often find interesting information on Meditation course and groups in the area.
The Granada area in particular has become a meditation Mecca. The surrounding countryside is renowned not only for its natural beauty, but also for its mystical, almost magical properties. Within the Alpujarra mountains is the Buddhist retreat of O'Seling.